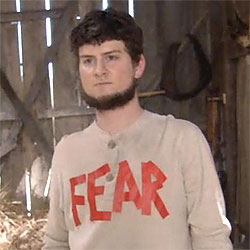 LOS ANGELES — Of the universe of characters on The Office — which was preempted last night for the ER finale — the one who has become the most popular with the shortest amount of screen time has to be Mose Schrute, Dwight's cousin and fellow beet-farm owner. We don't know much about Mose: He's "27 and has never left the beet farm," helps Dwight haze new Dunder Mifflin employees, and is a world-class table-tennis player. Sadly, you won't be seeing Mose for a while.
Mose is played by Michael Schur, one of the first staff writers for the show and now co-creator of Parks and Recreation, NBC's non-spin off show with Amy Poehler that debuts next Thursday. Schur, who is directing the season finale of P&R — its initial run is six episodes — told us he's not going to have time for Mose to make a triumphant return to Schrute Farms.
 "They called me the other day, asking if I could come back and play Mose for one of the last episodes this year," said Schur from his office on the P&R set. "It would have been right when I was [directing] that last episode, so there was no way it could work. It was a wonderful excuse not to have to put on that stupid neck beard again." Schur says that the Schrute Farm set is in the brutally hot San Fernando Valley, so whenever you see Mose, he's wearing a wool suit in 100-degree plus temperatures. "It's not super fun," he says.
Maybe he'll return next year. "No one loves Mose more than Paul Lieberstein," said Schur. (Lieberstein is The Office's head writer, and he also plays sad-eyed human resources staffer Toby Flenderson.) "If I can ever do it again for him, I will, but only because it makes him happy."