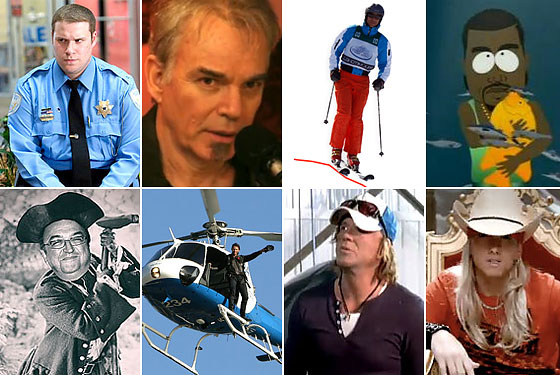 You know what time it is! It's Roll Credits time, where your friendly Vulture editors help fill in the blanks as to exactly what went down in the world of entertainment this week.
• After guiding NBC through nearly two full years of declining ratings and failed experiments like Kings, Ben Silverman and new NBC programming chief Angela Bromstad finally had their first decent week on the job.
• Even though it just opened today, everyone's been talking about director Jody Hill's latest flick, Observe and Report, all week. Does Seth Rogen really rape Anna Faris in it? What of the film's finale? On a semi-related note, Eastbound & Down got green-lighted for a second season.
• The Hold Steady topped our list of music's booziest bands.
• Hugh Jackman has had better weeks. We discovered that his tweets weren't his, his pizza came topless and loaded with cheese, and he jumped out of a helicopter.
• Mickey Roarke Rourke kicked all sorts of ass this week.
• After the elimination of Scott MacIntrye, the title of American Idol is Adam Lambert's to lose.
• And in closing, we're pretty sure that Billy Bob Thornton, Eminem, Peter Bart, and Roger Friedman are looking forward to putting this week behind them.
• It was a big week for smoke of both illegal and mystical varieties! Snoop Dogg blazed up live on the Internet and Ben Linus got to party with the Smoke Monster.
• Terminator: Salvation got slapped with a PG-13 rating, which means we won't be seeing The Governator's wang in the film.
• Friday Night Lights is about to air its season finale, but it doesn't look like Dollhouse will get the same courtesy.
• So many forks, so few outlets.
• After accusations of being a gay fish came from noted Saddam Hussein needlers Matt Stone and Trey Parker, Kanye West realized his ego might be getting too big.