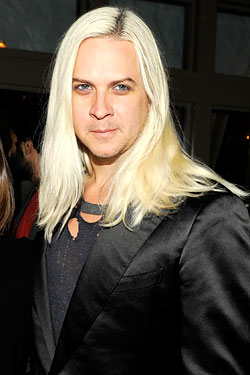 Part performance-art project, part exuberant dance-pop duo, Fischerspooner broke out of New York City's electroclash scene, worked with songwriter to the stars Linda Perry on a major-label album, and have finally arrived at Entertainment, the irresistible, whip-smart disc they released independently this week. Tonight they bring an elaborate stage show inspired by sixties space-travel and developed with the Wooster Group to the Music Hall of Williamsburg; tomorrow they appear at Webster Hall. Casey Spooner talked to us about a skeptical Susan Sontag examining his journals, how he'd welcome death, and his insane new hat.
Tell me about that hat on the album cover.
Last spring I had been doing this production of Hamlet with the Wooster Group, and felt I needed help getting started on the next [Fischerspooner] performance. Kate Volk brought in these dances, and one of them was this Kabuki dance called "The Wisteria Maiden." The Wisteria Maiden wears this crazy hat thing that's transformed into all these different props — it becomes an umbrella, or a shield, or a pallet. So we were rehearsing, and I was using a trash-can lid. Then we went to Brussels and did an installation in a museum, where I ended up making this weird prototype — a hat-box lid glued on top of a straw boater and attached by a bungee. I had this guy named Nasir re-create my hat for me in London, and then we went to this neon company that we work with and had them install neon in the hat.
What techniques did you adopt from the Wooster Group?
It takes basically two years to get remotely trained in one of the Wooster techniques, and then it's still very elusive. And we only worked with them for two weeks, so it's very rudimentary what we're doing — I don't want to tarnish their reputation by my pale imitation of an homage to them. But we're using the in-ears and the actor monitors, so you're cued by monitors onstage. Having an in-ear, where you're given an audio source and you duplicate what you hear, there's this technique of, "You aren't acting, you're reacting," and it creates a different kind of naturalism.
Is that related to the title of the new live show, Between Worlds?
It was kind of two things. Warren had wanted to work with this documentary about the space program in the sixties. [Wooster theater director] Liz LeCompte was into the idea of claustrophobia and restriction and isolation and more psychological things, and Warren was kind of drawn to how rudimentary and raw and dangerous and risky the whole endeavor was.
On Entertainment, there's a certain theme, lyrically …
Uh-oh.
"Infidels of the World Unite" and other songs have a sort of standoffish thing going.
Standoffish — really?
There's a word I'm trying not to use — political.
That's always been there. Maybe it's just not so veiled [on] this album. The first obvious example is "We Need a War" [from 2005's Odyssey]. Literally, Susan [Sontag] challenged me to use that writing. I was just starting to write the album, and I was like, I want to be a better writer, so I'm gonna go to somebody who can show me how they do it. I had overwritten for that record, so I just had page after page after page of gibberish. I thought we would sit down and she would read through my tome of bullshit, and she'd be like, "Oh, Casey, this section right here we can sculpt into this amazing thing about image and virtuosity, and the idea of authenticity … " That did not happen. Instead Susan closed my book, and we ended up talking about the news. And then she went into her study, came back, and handed me this piece of writing. And I looked at it, and I was like, "Susan, I thought we could do something that could walk the line between, uh, stupid and smart. This is just straight-up political."
"Infidels" is the continuation of what I started with the Susan song. Eric Bentley got a lifetime achievement award at the Obies, and I saw him give his speech, which was this incredible, awesome, amazing speech, and the last line was, "Infidels of the world unite." For this record, instead of making a telephone book full of bullshit, I kept a list of titles. And that was one of the titles that was written down.
Early on, you were associated with the electroclash scene—
I don't know what you're talking about.
Is there a cohesive group of musicians that you feel you belong with now?
I don't know. I just look at that period as such a moment. Everyone was so terrified of Y2K. If I'm gonna die at the strike of midnight, and the whole infrastructure of the entire Western Hemisphere is going to implode, I'm going to be dancing in a motherfucking jockstrap to bad dance music, covered in sweat and glitter.