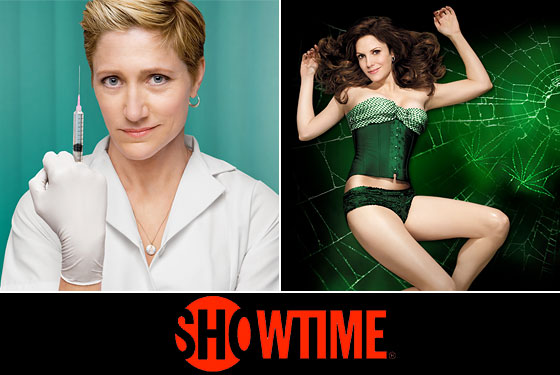 On the surface, it would appear that Showtime is currently enjoying one of the most successful periods of its 30+ year history. Thanks to programs like Weeds, The L Word, and The Tudors, they've been able to step out from the long shadow cast by the premium-cable giants over at HBO, and with United States of Tara, they proved that they are fully capable of attracting a healthy audience to their newer series. However, behind the scenes, there seems to be a bit of turbulence at the network with regard to the future of the brand, which has led some industry experts to speculate that there is a possible work stoppage going on at the network. So what's the deal?
As Showtime's flagship series continue to age (The L Word is finished, The Tudors is entering its fourth and final season), the network is struggling to find new programs to take the place of the staples that brought them to where they are now. Sure, they've got the Edie Falco–led Nurse Jackie launching in June, but outside of a second season of United States of Tara and two new seasons of Dexter slated, they don't have much in the way of new projects in their development pipeline. The Los Angeles Times is reporting that the network recently took a pass on four high-profile pilots that they ordered, each of which has a relatively sterling pedigree. For example, they decided not to green-light shows like The Farm, which was an anticipated spinoff of The L Word, and Ronna and Beverly, which came from Weeds creator Jenji Kohan.
Showtime Entertainment president Bob Greenblatt insists that these passes were not based on any cost-cutting mandates that came down from Les "Moonvest" Moonves, but rather because he wanted "the entire company to embrace these things. We have a lot to lose if we do anything that isn't at the highest levels. We didn't have that across-the-board feeling on any of them."
Well then, it looks like it's back to the proverbial drawing board for Showtime. Looks like the fate of the network is on your shoulders now, Diablo!
Showtime says it's still showtime [Company Town/LAT]