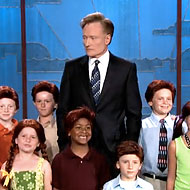 Friday night's episode of the Tonight Show was the first in which new host Conan O'Brien seemed truly at ease and fully acclimated to his new surroundings. All along, we knew it was only a matter of time before CoCo was able to ditch the first-week jitters and get back into the groove that he established during his wildly successful run as host of Late Night. Not only did he address the "Conan's new set looks like Super Mario World" meme that took the Internet by storm last week, but somehow he also was able to get Ryan Seacrest to open up about the difficulties he encountered growing up as a self-described "fat kid." However, it was another moment from Friday night's show that really grabbed our attention, one that serves as another piece of evidence in our theory that things are still really tense between Conan and Jay Leno.
We first theorized last week that Conan's opening-night impression of Jay hinted at some below-the-surface tension between the two. Then came last week's rumors that NBC henchmen are putting the squeeze on Leno and his desire to score A-list guests for his new 10 p.m. show that will be debuting in the fall — rumors that Jeff Zucker denied — which added a real-world component to the subtext we initially picked up on. However, it wasn't until Conan decided to parody Jay Leno's final good-bye that we knew it was officially "game on" between the two.
In case you missed Jay's final show, he closed his run as host of the Tonight Show in the most melodramatic and saccharine fashion imaginable, by bringing 68 children onstage who were born to his staff members during his seventeen-year reign as host. Naturally, cynical observers like us read that to be a wildly egomaniacal gesture, as if Jay himself were somehow a spiritual father to all of these kids (Jay didn't help when he posed on the floor in front of them like a proud papa bear). Conan must've felt the same way about the bit that we did, for his parody on Friday night openly addressed the paternity subtext of Jay's outro when every kid who walked out onstage was made up to have freckles and a goofy, Conan-esque red fright wig.
While it would be easy to write this single bit off as nothing more than a way to make the audience laugh, if you're paying close enough attention, you'll recognize that this is not an isolated incident. Now that Conan has gotten through his first week on the show, we don't expect Conan to continually tweak Leno; to us, it seems pretty clear that he's gotten that out of his system. That said, it's getting tougher and tougher to look the other way and pretend that this string of Jay-centric jabs isn't hinting at some deeper tension between the two of them.

What say you, VultureWatchers?
The Tonight Show with Conan O'Brien: Fri, June 5, 2009 [Hulu]