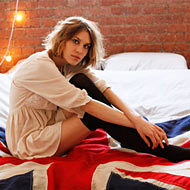 When MTV stuck a proverbial fork in their long-running TRL franchise last fall, every indication was that the network had little to no interest in remaining in the daily live-programming business. However, back in late April, the network announced that they had tapped a basically unknown (at least on these shores) British fashion model and television personality named Alexa Chung to become their next Carson Daly. Well, sort of. Rather than just pressing the reboot button on TRL, MTV execs decided that the program should lean more toward the traditional daytime–chat-fest format, only with a greater focus on integrating social-networking phenomena like Facebook and Twitter into the fold. Not only was their decision to play the "we're doing what the kids are doing" straight out of the classic MTV playbook, but it also gave them a hook they could use to get the media to give them some positive press (both the NYT and CNET wrote fawning pieces). While those ambitions are all well and good, there's only one question that really matters: How good is the show itself?
Well, to be perfectly fair to all parties involved, it's far too early to give a verdict on the show's future potential. But based on yesterday's bumpy debut, we don't really think Rachael Ray has much to be concerned about. We're not intimately familiar with Chung's prior television hosting style, but her energy in yesterday's debut was decidedly low-key, almost bordering on reserved, marking a stark contrast to most of the other programs that she's ostensibly competing with (not to mention other high-energy British television personalities like Cat Deeley and Myleene Klass). She's certainly striking, appearance-wise, but we tend to believe that there's a good reason the daytime-television landscape is void of "posh" personalities like hers. Additionally, she wasn't able to really connect to either her celebrity guests (Jack Black and Michael Cera) or the in-house audience, but we expect that's something she'll be able to work on and improve with time.
And, speaking of time, why did MTV programming executives schedule this show to run at noon? You know, as opposed to a later-afternoon slot like 3 or 4 p.m.? We know that it's summertime and teens are home from school, but what happens when the kids go back to school in the fall? After all, one of this show's main selling points is the live nature of the show, which helps position it within the advertising community as a program that is less likely to be time-shifted. Additionally, unless they're counting on college kids to routinely skip their classes (which we all know NEVER happens), we think this time slot will prove to be a huge drain on the show's promise to integrate real-time feedback from young fans on Twitter and Facebook. Just something for the suits at MTV to noodle on.
All that said, we've got our season pass set and we're going to continue to monitor her progress. What say you, VultureWatchers? Do you think that a Posh Spice–like personality can succeed in daytime television? What are you normally doing at noon? Did you even realize that this show existed? As always, if you've got feedback, we're game to hear it.