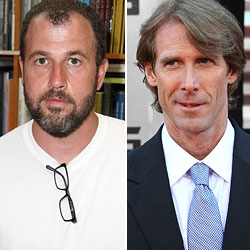 Behold the deal-making power of recently merged megaagency William Morris Endeavor: The New York Times and The Hollywood Reporter have revealed that WME client Michael Bay has bought film rights to the first book in a six-part series of young-adult sci-fi novels co-written by none other than WME client James Frey. Riding high on his Transformers windfall, Bay reportedly paid in the "high six figures" for I Am Number Four, about a group of alien children fallen to Earth following an attack on their home planet. Publishers Lunch claims to have discovered the lucky co-writer, a 29-year-old recent Columbia MFA graduate named Jobie Hughes — also a WME client.
All of this hard-core synergy reminds us of another dealmaker, Richard Abate, who scored a $3 million deal last year for Dale Peck and Heroes creator Tim Kring. Interestingly, Abate, who ran Endeavour's literary operations in L.A., was pushed out in the merger. The new NME macher? None other than Eric Simonoff, agent to both Frey and Hughes, who built his literary reputation on the likes of Jhumpa Lahiri, Nam Le, and the pre-scandal James Frey, and started making bigger and bigger book deals for Janklow and Nesbitt before jumping to William Morris just ahead of the merger.
One unresolved issue, at the moment: The book hasn't been sold yet. This may be owing, in part, to the fact that neither Frey nor his co-writer have their names on the project. When the Times' Motoko Rich called around to publishers, some who'd seen the manuscript didn't even know the fabricator turned novelist was involved. "I think we're all confused," one publisher told her. "I think we're wondering, Are you hiding it because you think it's better, and if so, why are you hiding it?'" Maybe because Frey's lying and drug abuse might not sit well with YA divisions; maybe because his first intentional novel, Bright Shiny Morning, seriously underperformed its million-dollar advance. But still, secrecy might not have been the best policy, especially given the difficulty of keeping said secret. Maybe Simonoff got a little ahead of himself — before Michael Bay swooped in, Optimus Prime–like, to save the day. Or maybe, given that Frey and Hughes are trying to sell their own separate novels at the moment, Simonoff is already thinking five moves ahead. (Hell, maybe he even leaked the names himself.) Ari Emanuel, watch your back.