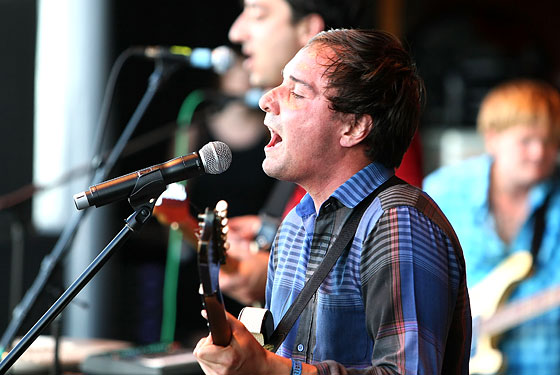 This weekend, predicted to be sunny and near 80 both days, should make for prime summer-music listening — and lead off a shake-up of the Power Rankings. Will the Black Eyed Peas album The E.N.D., finally out Tuesday, drop like the other shoe, heralding a weakening "Boom Boom Pow" — or will it further cement the smash's No. 1 status? Meanwhile, "Blame It" long ubiquitous, perhaps even long in the tooth, has sagged from its No. 2 position. And it's certainly not too late for new contenders to break in — both Kenny Chesney and D.J. Webstar and his friends are gaining traction with soundly hedonistic warm-weather tracks.
And then there's Grizzly Bear, princes of New York's indie scene, whose Veckatimest — which debuted in the top ten this week — has "Two Weeks" as its standout track. Last summer, they primed it on Letterman; this summer, it's the clear choice for easing down a cookout playlist as night falls. The newish video's a real creepfest — argument enough that this wasn't meant to be played as you're hunched over a computer.
2. Drake, "Best I Ever Had": A record label bidding war, with one contender allegedly offering $2 million upfront? Unauthorized cash-in albums? To paraphrase the man in question, buzz so big he could probably sell a blank disc.
4. Jamie Foxx feat. T-Pain, "Blame It": It's not going away anytime soon, but we sense a slip. The Hot 100 agrees – "Blame It" fell from No. 3 all the way to … No. 5.
3. Jeremih, "Birthday Sex": Our man woman in Harlem, HomelessDad, says the neighborhood's fully embraced it. And now that he mentions it, that "girl u know I-I-I-I" part does have some serious breakout-ringtone potential.
1. Black Eyed Peas, "Boom Boom Pow": Like the 2003-2007 San Antonio Spurs of the 2009 Song of the Summer Race — dependably, boringly dominant. And honestly, despite PurpleAndGreen's contention, we just don't see this having "Umbrella"-like potential (and before that, "Crazy" and "Hey Ya") as a cover song.
5. Green Day, "Know Your Enemy": Solid plugging keeps them in the mix: the PR blitz is still in full force (more magazine covers and late night appearances) and their tour doesn't even start until next month.
6. Webstar feat. Jim Jones and Juelz Santana, "Dancing on Me": Like Jadakiss's entry last week, it might not have the national appeal of its listmates but is totally beloved in NYC. With Harlem's proudest dropping verses, why wouldn't it be?
7. The-Dream feat. Kanye West, "Walking on the Moon": Not a lot of noise out of the pudgy hitsmith. Is The-Dream saving the big push for his quick-turnaround December release?
8. Kenny Chesney, "Out Last Night": The No. 2 song on the Hot Country Charts is an aw-shucks ode to the inevitability of partying too hard (and lying to girls!) — perfect summer material.
9. Grizzly Bear, Two Weeks": The charts don't lie! First New York's favorite band, next, the whole damn country?
10. Kelly Clarkson, "I Do Not Hook Up": Kid's got alligator blood — after last week's slip, "I Do Not Hook Up" bounced right back, jumping six spots. Still, where will it land next week?