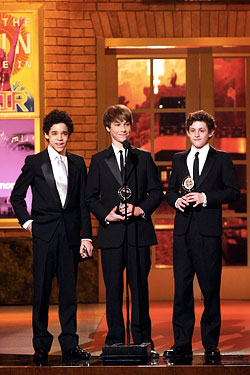 The great problem with the Tony-awards broadcast — which aired last night on CBS — is that, being a TV broadcast, it appears on television. Appearing on television means it needs an audience, and having that audience means people must want to sell things to the viewers. And those two inevitable concerns put unnecessary pressure to interest the rest of the country in what ought to be a night for people who actually care about theater — which is to say New Yorkers, gays, some Brits, and a small diaspora in places like Shaker Heights, West Palm Beach, and Encino — to celebrate what's gone on over the past year in one of 40 old buildings on the West Side of Manhattan.
Which is not to say last night's show from Radio City Music Hall was a bad one. But it wasn't terribly interesting. It was hurt, unavoidably, by a lack of suspense: There was wide consensus on most of the big awards. Billy Elliot won Best Musical (among its ten awards), God of Carnage won Best Play, Hair won Best Musical Revival, and The Norman Conquests won Best Revival of a Play. At least four of the eight acting awards were shoo-ins, too.
There were some fun moments. Neil Patrick Harris — a genuine Broadway actor and, not coincidentally, the star of a CBS sitcom — was a fine and affable host in a very shiny tuxedo, though he only really shone in a final song-and-dance number recapping the show to the tune of West Side Story's "Tonight." ("Chris Sieber, please, performing on your knees/ dude, that only works to win Golden Globes.") Frank Langella, presenting the award for Best Actress in a Play, grumbled that he didn't get a Best Actor nomination for his role in A Man for All Seasons: "But I thought Geoffrey Rush was nice in that play," he condescended, jokingly, to the man who won for Exit the King.
Liza Minnelli, accepting the Special Theatrical Event award for Liza's at the Palace … , performed what almost seemed to be an absurdist experiment: She's perhaps Broadway's most beloved living legend, and they'd never play her off, so how long could she get away with rambling? About 90 seconds, as it turned out. Carrie Fisher, the erstwhile Princess Leia whose memoir, Wishful Drinking, becomes a Broadway show in the fall, was unable to successfully read her TelePrompTer. And Alice Ripley, who won Best Actress in a Musical for her portrayal of a manic-depressive mother in Next to Normal, proved herself to be perhaps nuttier than her character.
But, as usual, the performances from nominated musicals were badly shot. (Can't they find a director who knows how to shoot theater? And who can tell the difference between Mary Stuart nominees Janet McTeer and Harriet Walker?) The performances from nominated plays were truncated to the point of incomprehensibility. And there were big musical performances from Mamma Mia, which opened almost eight years ago, Jersey Boys, playing since 2005, and Legally Blonde, which opened in 2007 and closed a year and a half later. They're irrelevant to this year's Tonys, but they'll help CBS draw viewers (maybe), and they're all on tour, so they help sell the Broadway Experience, if not actually Broadway.
And, of course, the TV viewers won't come, anyway. Just put the thing on Bravo, get a better director, and let Liza ramble for as long as she wants.