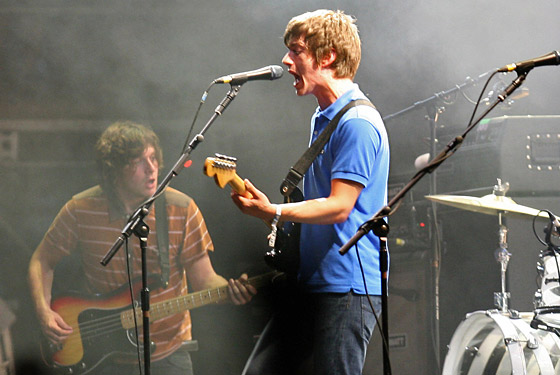 We've scored some good live stuff and an unveiled album cover, but this week has brought the first bit of official studio recordings from Humbug, the Arctic Monkeys' third album, splashing down August 25. The band's narrative is pretty familiar: a bunch of scrappy youngsters from suburban England become a mini-phenomenon with their first album (Whatever People Say I Am That's What I'm Not) before settling down with their second (Favourite Worst Nightmare). So what's next? If first single "Crying Lightning" is any indication, it's not the world-conquering ubiquity of the Whatever People Say era: "Lightning" packs the familiar driving bass line and strong and simple guitar work, but it's a mid-tempo affair without a hint of the head-knocking heft of past singles "Brianstorm" and "I Bet You Look Good on the Dance Floor." Front man Alex Turner still has cheeky venom to spit out (he "hates that little game you had called crying lightning / and how you like to aggravate the ice-cream man on a rainy afternoon"). He just doesn't seem to be quite as worked up about it.
Arctic Monkeys Return, Softly
Things you buy through our links may earn New York a commission.