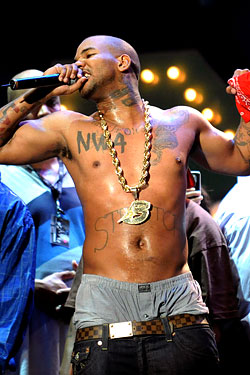 So we weren't the only ones who noticed Jay-Z's freestyle last weekend (since identified as the intro to Blueprint 3): Predictably, the Game has responded negatively to Jay's brief mention of past tiffs ("I'm talking about despair, I'm talking about shame / I ain't talking about gossip, I ain't talking about Game"). "I'm So Wavy," released over the weekend, has some not-so-nice, not-so-clever things to say about Hova, mostly knocking his relatively advanced age and his vague resemblance to a camel, with a brief aside to cast aspersions on the moral character of Kanye's lady, Amber Rose. All the good stuff comes after the music cuts out, when Game goes on a quasi-rhymed rant. A few choice nuggets, presented without context: "Blueprint 3 gon' sell more cigarettes than it do records … now I know why the taxes went up on tobacco"; "What you fucking with 'Ye for? 'Love Lockdown' my shit"; "You and Dame used to be tighter than giraffe pussy and shit."
And despite all that, the best part of the resurrected beef is how it's already reverberated around political blogs, sparked by Foreign Policy writer Marc Lynch's "Jay-Z vs the Game: Lessons for the American Primacy Debate … a story about the nature of hegemony and the debate over the exercise of American power." Yes, this is a thing that's happening.
The Game Hits Back at Jay-Z; Political Thinkers Respond
Things you buy through our links may earn New York a commission.