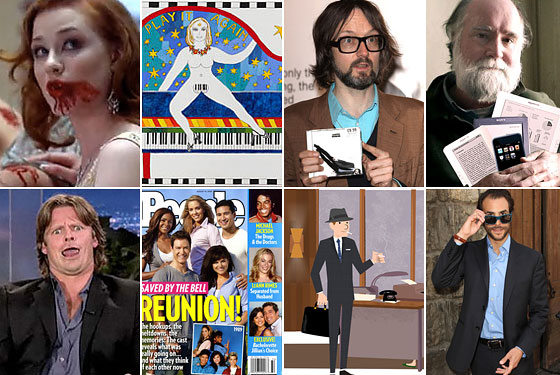 We had been holding out hope that the day would never come, but unfortunately, it did. Our week got off to a craptastic start when we learned on Monday morning that the impeccably eyebrowed Vulture hero "Beijing" Ben Silverman will be departing the Peacock to run a yet-to-be-named production company. The awfulness of this announcement was compounded when we learned that Silverman's successor, one Jeff Gaspin, appears to be the very definition of a consummate professional (and therefore totally boring). We'll readily admit that we still haven't fully come to grips with the massive hole this will inevitably leave in our lives, but our grief did not prevent us from our daily mission to bring you nothing but the freshest cultural news.
• Status check on bands that came of age in the nineties: Third Eye Blind? Rising. Weezer? Falling.
• Celebs continued to duke it out over Twitter this week. Not only did Courtney Love antagonize Taylor Momsen, but Michael and Michael let their feigned hatred for each other spill over to the microblogging service.
• In an effort to trim the run time of this year's Emmys, the producers announced that the presentation of some of the lesser awards would be relegated to a pre-taped segment, a move that had HBO crying "Conspiracy theory!" from the rooftops.
• We had a blast talking to Jarvis Cocker. Unfortunately, the same could not be said for ?uestlove.
• Wanna know who else, besides us, had a crappy week? Try (former) Twilight actress Rachelel LeFevre and Dustin "Screech" Diamond, the latter of whom was dissed by his old Saved by the Bell chums.
And that's that! Now, if you'll excuse us, we're off in search of whatever Steve Zahn was on when he showed up on the Tonight Show the other night. Hasta!
• While Paula Abdul is still engaged in heated yet wildly unsuccessful contract negotiations with the producers of American Idol, Kara DioGuardi quickly and quietly signed on to do another season of the show. Speaking of Idols, Kelly Clarkson had kind of a shitty week, too, when she realized that Ryan Tedder sold the beat he had promised her for "Already Gone" to Beyoncé.
• Come with us now on a journey through time and space to the world of the Mighty Boosh!
• We don't have a convenient device to tie all of these stories together, but we quite enjoyed them, which means you should, too: Dan Kois explained why the Minnesota wedding viral video might be the best piece of theater you'll see all year, we broke down Nicholson Baker's exorbitant Kindle expenses, and we asked why all the music magazines are dying. Oh, and we also Mad Men–ized ourselves.
• Eek, hide all your possessions — there's a "She Wolf" in your closet!
• So, are you guys going to see the Rex Reed–approved Funny People this weekend, or what? You should go for Aziz Ansari and stay for Seth Rogen's T-shirts. Speaking of Rogen, that callous young man dared to speak out against his tremendously overworked Knocked Up co-star Katherine Heigl. How crass!
• Big week for True Blood. Even though the show's second season is just starting to heat up, HBO decided to renew the vampire dramedy for a third season. And all you fangbangers out there should practice patience, as it's only a few more weeks till you'll be able to get your mitts on your very own bottle of Tru Blood.