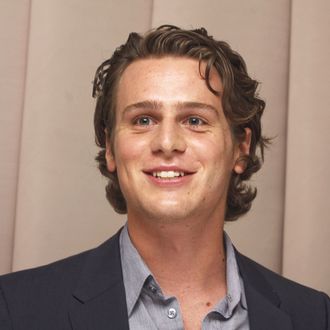 Photo: Fotos International/Getty Images
Jonathan Groff is about to have a big August. Tonight, the former star of Hair and Spring Awakening starts performances as Dionysus in The Bacchae at the Delacorte. On the 28th, he has his big-screen debut, as 24-year-old visionary concert promoter Michael Lang in Ang Lee's Taking Woodstock. In honor of these altered-state characters, New York made a valiant but futile attempt to get Groff drunk at a midtown wine bar. Here are some highlights from our sober encounter that didn't make it into the magazine.
You're half Mennonite and your dad raises horses. What's changed back home in Pennsylvania since you came to the big city?
Um, now my dad has like, 50 fainting goats. Do you know what they are? When you scare them, they freeze and fall over. He actually got them when I was doing Spring Awakening. So when it's time to feed the goats, he sings, "Blah, blah, blah, blah, blah, blah, blah, blah," from the song "Totally Fucked," and they come running. Isn't that adorable? Actually, when I was doing Spring Awakening, my mom rented a school bus and picked the whole cast up in New York and we took a field trip down to the farm and spent the night in tents. My dad was SO excited to show them the fainting goats and how they come when he sings "blah, blah, blah, blah."

You're Dionysus in The Bacchae — did you start drinking more to get in character?
Ha! No. It's funny that I'm playing the god of wine and partying and that's not who I am at all.

You didn't get naked in Hair. Do you finally take it all off in The Bacchae?
No, I'm not naked at all, for once.

That's disappointing.
No, it's a good thing! People get so fixated on it. It just so happens that I've been involved in several projects in a row that involve nudity. It makes me giggle that people get so hung up on it.

Will they serve free wine at the show?
That would be perfect! But I don't know if you can bring wine to your seat. I know they definitely allow food, because one day in Hair I went out in the audience to sing "Manchester, England," and I ate some girl's salad. I sort of shoved a couple forkfuls in the side of my mouth and didn't get a chance to finish them till the song was over. It's very hard to sing with salad in your mouth.

Did you regret the decision?
No, I'm totally glad that I did it. She was shocked. I was shocked that when I gave it back to her, she continued to eat the salad.

We would think your inability to actually control the weather at the Delacorte might make it difficult to convince people you're a god.
Yeah, that's one of the things that's tricky about this role. The other day in rehearsals I very triumphantly slammed my thyrsus — this stick I carry around — on the ground and it hit me in the head. If you're playing a god, you just can't let that happen.
You have a bit of a reputation for spitting a lot while singing. Does the same thing happen when you're just talking?
I've found myself spitting a lot in The Bacchae. I don't know what it is. I guess I have a lot of saliva in my mouth. I actually don't think about it too much, unless I'm in a good scene with someone and I can see it hitting their face.

You know, when we saw you in Hair at the Delacorte, we got so transfixed watching your spit hit the light that I didn't notice everyone onstage had stripped.
What? You did NOT miss it because you were watching my spit! Oh my God! That is amazing. You are the only one. That's very funny. Because at the end of act one — I'm sure Gavin [Creel] would agree — you are never as upstaged as an actor as you are in act one of Hair when you're singing "Where Do I Go" and everyone's like, "Um, can you move out of the way?"

You also play Michael Lang in Taking Woodstock this month. Did you meet him?
Yeah. He still lives in Woodstock with his wife and two kids. I'm 24 now; I was 23 when I made the movie. The idea of being a 24-year-old and making Woodstock happen is pretty fucking mind-blowing.

You wear a leather vest and no shirt for the entire movie. Is that Michael's real vest?
No, but I have pictures of the real vest on my camera phone. [pulls out very old Treo and starts scrolling through photos] Here's Michael Lang. This is me at Michael's house with his two kids on his actual motorcycle. That's me at his house in his actual vest. And that's me in his actual vest on his actual motorcycle. I feel like such a nerd that I took all these photos, but I was so excited.

Could Woodstock ever happen again?
Well, in the final scene in the movie, I come on on a white horse and I say, "We're all gonna go out to San Francisco. We're gonna do a concert with the Rolling Stones. It's going to be beautiful." And, well …

Do you believe the movie's message that acid can cure anything?
As big as drugs obviously were in the culture, it was more about, to me at least, optimism, and positivity, and loving your neighbor. The incredible thing about that weekend was, I mean, they thought they were going to have 100,000 people and they ended up having 450,000 people. It was the third largest city in New York for that weekend. It was a disaster area. There were not enough bathrooms. It rained. And yet, no one was seriously injured or killed. Everybody came, lived, and celebrated, and left.