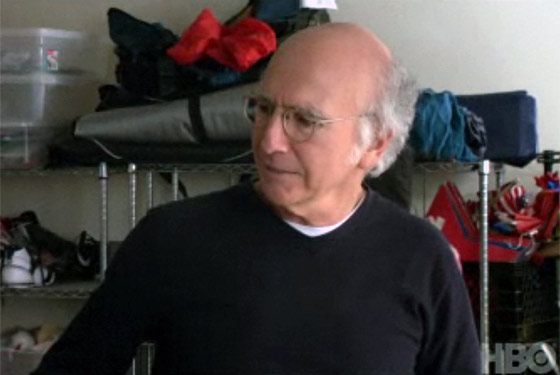 Sometimes you forget that Larry David has always been more of a writer than a performer. He's not a natural actor — this much was obvious as he stammered through endless soliloquies in Woody Allen's Whatever Works — but he's just gangly enough for physical comedy. This episode begins with Larry wordlessly attempting to open a GPS device encased in that evil non-perforated plastic packaging. The struggle finally culminates in a primal scream. And immediately we realize that, in true Curb fashion, a box cutter introduced in the first act is destined to return in the third. And now, our weekly countdown of outrageous moments!
3. Dr. Karen Trundle. Larry's still trying to figure out how to rid himself of the Black family, and while watching Dr. Phil, he stumbles across an idea: A New Agey doctor (played by NYPD Blue's Sharon Lawrence) tells her patients that they can "walk out on cancer" by leaving unsuitable mates. How does she define "unsuitable"? Someone who is "impatient, obnoxious, petty, argumentative, and obsessed over meaningless details at the expense of a harmonious relationship." Larry nods along, quite aware that she's describing him. And next thing you know, he's setting up an appointment for Loretta to meet the good doctor.
2. "I don't like you, Dean. Why would I want to hug you?" In Dr. Trundle's waiting room, Larry runs into his old neighbor Dean, whom he initially does not recognize. They have an awkward hug-or-no-hug moment that ends up breaking Dean's glasses, which are hanging around his neck. After a long debate about whether he should pay for them, and whether it would be "paying for them" or "replacing them" (this involves Larry blaming the argument on Dean's being "a moron"), Dean says that he has cancer … and Larry actually backs off. It's the first time all season that he appears to recognize that cancer is, you know, bad for people other than him. But it doesn't last long.
1. Secondhand semen. Only on Curb would an entire episode center on fellatio in an automobile. ("How Gentile," Larry remarks.) We have four incidents. The first involves Richard Lewis's girlfriend (played by staple nineties redhead Lolita Davidovich), who is angry at Larry because he wouldn't kiss her good-bye after a dinner together. The second has Larry seeing Dr. Trundle apparently performing the act on her husband, which offends Loretta so much that she won't return to the doctor. In the third, Loretta sees one of Leon's paramours hiding in Larry's car, which makes Loretta so angry that she grants Larry's wish and moves out. (Everyone leaves but Leon, of course.) In the fourth instance, Suzie goes down on Jeff and causes a car crash; their rescue necessitates Larry's box cutters — the packaging for which he cannot get open. And so in the last episode before the Seinfeld reunion arc starts, we have a classically elliptical Curb plotline about oral sex, cancer, and pomegranate margaritas.