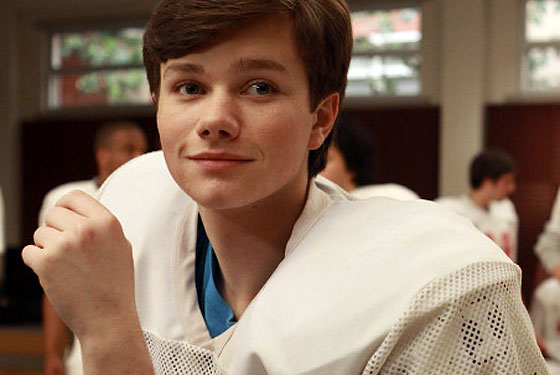 After three weeks of nonstop musical numbers, we take a bit of a break from the belting, but this is probably necessary — with all song and no exposition, Glee would be a very dull show indeed (eventually, anyway). This week, the action centers on pregnancy and lies: Terri is wearing a fake baby bump and having momentary pangs of guilt, and Quinn is telling poor Finn he's the father of her child — when really it's Puck! Elsewhere, Kurt and his dad bond; the football team learns — dramatic pause — the true meaning of teamwork, with Kurt as kicker; and, best of all, Scary Sue gets the spotlight! Naturally, this all calls for a nice mix of Beyoncé, Celine Dion, and Broadway.
Beyoncé, "Single Ladies (Put a Ring on It)"
Pizzazz: 7
Relevance: 9
Absurdity: 7
We're feeling a little "Single Ladies" fatigue, and this episode has two versions (we averaged our impressions for the above scores). Kurt's opening number takes itself very seriously, as we're sure Kurt would (those leotards were not Tina and Britt's choice); the football team's game-time dance routine, on the other hand, didn't amuse us as much as we thought it might (even on Glee, the idea of a mid-game dance routine seems a little absurd). Regardless, it's a good song choice: This episode was all about many of the characters claiming their independence, whether it was Kurt coming out to his dad; Rachel making nice guy Mr. Schue face a painful decision about playing favorites; or Finn manning up to his situation by, er, reading ("I got this out from the library. Did you know you could borrow books there? All of 'em! Well, except the encyclopedias").

Bernstein and Sondheim, "Tonight" (From West Side Story)
Pizzazz: 5
Relevance: 9
Absurdity: 5
Finally, we get to hear Jenna Ushkowitz sing! The girl was in Spring Awakening, so we figured she had a decent voice, and she certainly nails most of Maria's iconic solo — although she has to admit that her final note is sharp. (Also, we're not sure how Tina standing alone on a ladder figures into a glitzy show-choir number.) It's completely believable that Rachel would gasp at being given the alto part (altos clearly aren't soloists; we were in choir, once, and we know) and would imagine herself the ideal Maria ("Natalie Wood was a Jew, you know. I've had a very deep personal connection to this role since the age of 1"). And Mr. Schue's decision to keep Tina as soloist is an important one; even Terri's ditzy sister Kendra notes that Will cares more about pleasing everyone than anything else, so perhaps this tough choice is a step forward.
Celine Dion, "Taking Chances"
Pizzazz: 9
Relevance: 9
Absurdity: 3
As Jane Lynch says, four words are all it takes to steer her evil course (and pedophile Sandy!) right through the glee club: Liza. Minnelli. Celine. Dion. High on the promise of the lead in Cabaret (and really, who wouldn't be?), Lea Michele rips into Celine Mode, complete with Celine Vibrato (if only she'd punched herself in the chest, the Celine Transformation would be complete). Again, it's typical Rachel behavior, but the real point here is the song choice: a bit literal, as now seems to be the custom on Glee, but it also gives the gist of all Sue's crazy rants on the local news. Whether she's extolling the benefits of caning and littering or inspiring the homeless ("I'll often yell at homeless people, 'Hey, how's that homelessness workin' out for ya? Give NOT being homeless a try!'"), Sue's ending message is actually a resonant one for the Glee cast: "There's not much of a difference between a stadium full of cheering fans and an angry crowd screaming abuse at you … How you take it is up to you." Everyone could benefit from a little bit of Sue's confidence — and we'll see what that results in next week!