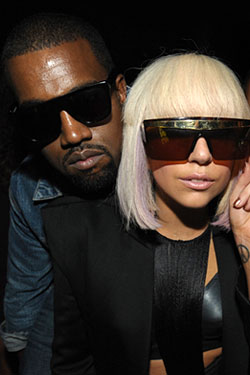 Even though Kanye West has spent the last few days apologizing profusely for Soy-Bombing Taylor Swift at the Video Music Awards on Sunday night — via a properly capitalized blog entry that references Gaylord Focker, a tearful appearance on the Jay Leno Show, and even an actual phone call (!) — it's now looking as if his heroic interruption of a boring acceptance speech might have even greater ramifications than his becoming the most universally despised musician since Chris Brown. Case in point: The Los Angeles Times is reporting that his planned tour with Lady Gaga could be on the ropes.
The ever-alert folks at the LAT noticed that a number of tour dates for the Fame Kills outing first went live on the music-industry website Pollstar on Monday morning. However, officials from Live Nation and AEG have been reticent to confirm whether the dates are legitimate, and Kanye's camp has also remained mum on the matter. When reached for comment, a spokesperson for Gaga went on record to say that "Live Nation has yet to officially announce the tour and the correct routing." Hmmm.
As if that weren't shady enough, Ticketmaster had listed a handful of tour stops on its website on Tuesday morning, in advance of its originally planned internet presale date of today, yet sometime yesterday all these listings mysteriously disappeared from the monolithic organization's web properties.
While it's too early to say whether the Fame Kills tour will eventually fall victim to Interruptiongate™ and be canceled entirely, these developments certainly do not bode well for either artist. But, hey, there's always a bright side! If the tour does fall through, that oughtta give Kanye plenty of time to begin training for his upcoming fight with 50 Cent!
The disappearing Kanye West, Lady Gaga tour dates [Pop & Hiss/LAT]