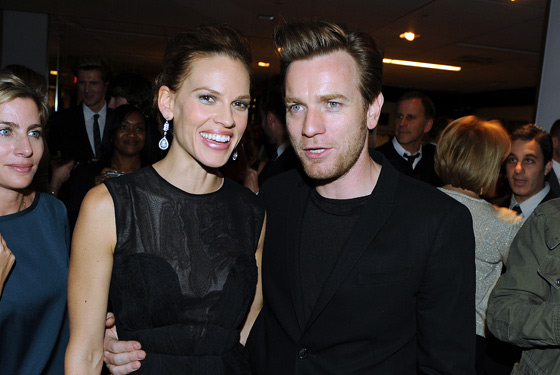 It's probably not a good omen when you can't get into a movie premiere because paramedics are taking someone out. When we arrived at the Paris Theatre for the New York debut of Amelia, the Mira Nair–directed, Hilary Swank–starring Amelia Earhart biopic, we found ourselves flanked on one side by movie stars and screaming paparazzi, and on the other by some poor young woman who'd collapsed inside the theater and was, much to her embarrassment, being carried to an ambulance in all her finery. (According to the security guards, fainting at premieres has become a relatively common occurrence over the last several months; in this particular case, we're guessing it was the confluence of hot lights, Ewan McGregor, and recession-induced starvation.)
Things continued to be bizarre as the night progressed. In the EMT-caused mêlée, a fan crashed the press line and posed as a reporter. When asked why, if he really was a reporter, he had no tape recorder, he replied, "Because I have a photographic memory. That's how I do it." Later, said "reporter" introduced himself as working for Life & Style, pulled out a Pretty Woman poster, and thrust it towards Richard Gere, who promptly fled the red carpet.
Later, in what was possibly a first at a film premiere, the stars rushed to their seats, clearly intent on sitting through their own movie (usually they leave the theater as soon as the lights drop). Nair, looking lovely in a white-satin tunic with silver beads, gave an effusive introduction, trying to cajole the film's actors into coming down to the front ("Come here, Richard Gere, and sing for your supper!") only to be ignored.
Afterward, the crowd filed down the street to Bloomingdale's to sip cocktails on the third floor amid the neon hues of the Lilly Pulitzer collection. We happened upon Richard Gere just as a waiter was bringing him a glass of white wine — which he promised was "NOT the Sauvignon Blanc" that Gere had rejected moments before. He stared at it skeptically, sipped it, and declared it "drinkable." "If you were buying wine for a thousand people, you probably wouldn't be getting the best wine, either," he explained.
Given the Sauvignon Blanc's undrinkability, we had little choice but to amuse ourselves by surveying VIPs to see who would be brave enough to let Swank fly them in a plane. Mariska Hargitay was the most willing, saying, "Hilary would never take me up in a plane if it wasn't safe." Nair, who for insurance purposes had stopped Swank from taking the solo flight necessary to complete her pilot's license, was impressed by the star's skill at taxiing a plane: "She wasn't supposed to, but I liked that. She almost blew me off my video monitor." Gere seemed a little less sure of her ability: "I mean, I assume she knows how to fly. I don't have a fear of flying, I have a fear of dying." Harry Connick Jr., ever the voice of reason, put it more succinctly: "Hell no, I won't fly with her!"