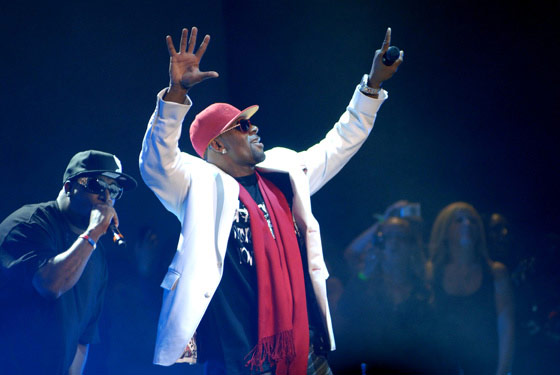 On Friday night, R. Kelly's Ladies Make Some Noise tour rolled into the WaMu Theater at Madison Square Garden and, of course, Vulture was there. Over 90 breathless minutes, Kellz and his band (three keyboardists and a drummer, for most of the concert) ran through much of his best-loved material, usually only playing the choruses so as to pack the evening with as many greatest hits as possible. Surely it goes without saying that the music was excellent — but what else happened at the show? We count the memorable moments, after the jump.
1. In the lobby before the show, there was a stand at which lucky fans could have their photos taken in front of a giant airbrushed portrait of R. Kelly for the low price of $20.
2. At concert's beginning, the curtain opened on a set made to look like the outside of a club — velvet ropes on both sides of the stage, people in line, a red carpet, etc. Following a medley of club-set jams like "Thoia Thoing," "Hotel," "I'm a Flirt," and "Freaky in the Club," Kellz ordered a roadie, "Can you move that carpet, please? I almost tripped three goddamn times." Then he repeated himself, singing his demand. "You laugh, but I can make a song out of anything," he told the crowd. "That shit will be on the radio and you'll all be back here next year." He's totally right; we're still humming it.
3. The last time he performed in New York, Kelly said, he did a song for girls with big booties. So Friday, to be fair, he did one for girls with small booties: "Little-booty girls, would you stand and turn around? Slap it and ask the big-booty girls, 'How you like me now?'" (Girls with flat booties will have to come back next year for their song, he said.)
4. For "I Can't Sleep Baby (If I)," the stage was made to look like the inside of a log cabin, with Kellz sitting in a rocking chair atop a bearskin rug in front of a projected video of a fireplace. Fake snow fell from the ceiling.
5. "Everybody told me not to bring this up," he told us during a break. "But this is my first tour since my court case. They said 'Don't bring it up, they don't want to hear that shit' … Fuck that! This is the first tour since my court case! [Singing] And I'm still here! Hallelujah! Thank you, Jesus! You ever felt like that for some reason? It ain't got to be court!" Then he sang "Heaven I Need a Hug."
6. Kellz performed "Number One" sitting in a movie-theater seat while wearing the shiniest, most retina-scorching silver lamé trench coat we've ever seen. This may look like just a bad iPhone photo, but it actually gives you a pretty accurate idea of what fans saw as they were being blinded.
7. During a set change, audience members who still had their vision watched a video of Kelly recalling the time he spent working with Michael Jackson on "You Are Not Alone." Among Michael's talents was his excellent taste in others' music, noted Kellz before showing the famous clip of MJ dancing in the backseat of a car to "Ignition (Remix)."
8. The Jackson tribute segued into one for Sam Cooke, during which a tuxedoed, bowtied Kelly capably took on "A Change Is Gonna Come" and "Bring It on Home to Me."
9. A pair of panties was tossed onstage. Stagehands brought out a changing screen, which Kelly disappeared behind, returning minutes later wearing the same clothes. Then he tossed a pair of his own underwear into the crowd, instructing security guards, "Let her keep those."
10. Because he'd sang "Ignition (Remix)," his biggest hit of the past decade, only a half hour into his set, he closed with awesome, confetti-cannon-enhanced versions of "Step in the Name of Love" and "Happy People." No encore was necessary.