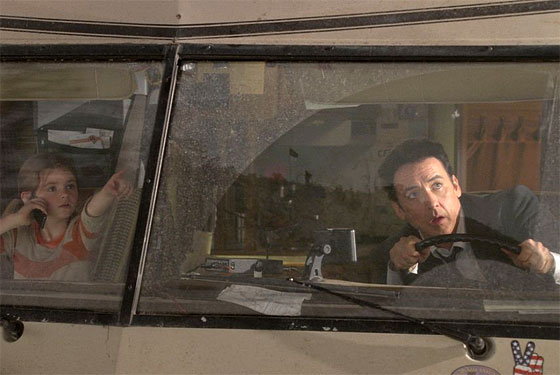 As foretold by the Mayans, Roland Emmerich's apocalypse-thriller 2012 arrives in theaters this Friday featuring John Cusack, an actor not typically known for sharing the screen with tidal waves and explosions. We spoke with Cusack in midtown Manhattan last week about the rigors of working alongside a machine capable of simulating a ten-and-a-half magnitude earthquake and the roles his fans won't let him forget.
What do you have to bring to a performance when it's a role that runs the risk of being overshadowed by explosions?
I don't know, you just kind of roll with it. Roland [Emmerich] was pretty emphatic — and you can tell even when you read the script — that the special effects would only be as good as the characters you cut back to, and that the audience cares about them. He spent a lot of time on the human moments and behavioral moments. It wasn't like we were doing some of these action films where nobody even talks for the last fifteen minutes of the movie. He didn't seem interested in making that kind of movie, so I didn't really worry too much about that.
You don't do many action movies, your last being Con Air in 1997. What was it that attracted you to 2012?
I just liked the script. I like working with Roland. I got offered it and it was definitely the A-plus version of these movies, as far as the kind of movie it was and the budget and the script. Usually these movies go to whoever the biggest box-office star in the world was, but Roland wanted me to do it and he's a very powerful director. It's not easy to get these roles. It would go to Tom Cruise or Brad Pitt, anybody who's the biggest box-office star.
Was there one scene that was more challenging than the others?
Well, the underwater stuff is pretty real because, you know, there's no air. I'm comfortable in the water — I scuba dive and I love the water — even though I love the water it was challenging. We were lucky. Liam, the young actor who plays my son, he's like me, he's like a fish. But if he wasn't comfortable in the water, I don't know how we shoot that, because you can't have a stuntman for a 12-year-old.
What film are you surprised is still discussed in 2009?
Some of the ones that I make, like Say Anything, The Grifters, or even High Fidelity or 1408, those you can sort of feel right when they came out people were way into them. But I made a movie when I was a teenager, Better Off Dead, and people still come up to me and I'm like, "Wow." They quote lines to me and I don't even remember the movie that well.
The other Savage Steve Holland film, One Crazy Summer, seems to still be popular, too.
I didn't know that at all and they quote lines from those things. But I have a lot of different ones that people remember so it's kind of cool. The Woody Allen one [Bullets Over Broadway] I understand because people really dug that one when it came out. I remember even when I read the script for [Crazy Summer], they were mixing a teen movie with black comedy and even some surreal stuff. So I knew back then that this was a really cool tone and maybe this will be good. But the movies didn't really do that well when they came out, but they became hits on DVD.
When you saw the Yankees win the World Series, was there a part of you, as a Cubs fan, saying, "Oh, come on, all I want is one"?
Of course! Of course! The Cubbies have a new owner so maybe they'll do it one of these years.