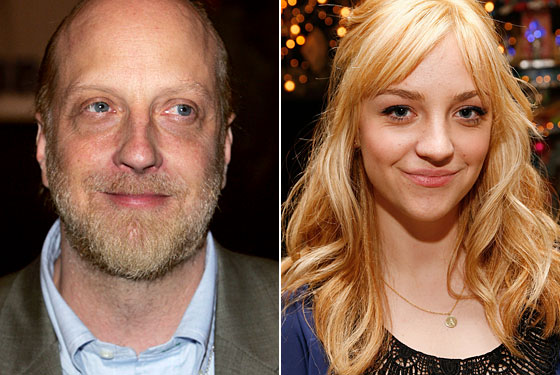 Yesterday's The New York Times Magazine contained a fawning portrait of Bob, Chris, and Abby Elliott, a family of performers whose comedic lineage runs three generations deep. While there's little use denying author Ed Zuckerman's assertion that they hold a unique place in the entertainment landscape because they, unlike the more dramatically inclined Barrymore or Bridges clans, have been able to make names for themselves in the ever-changing world of comedy, there was one sizable elephant in the room that a clearly enamored Zuckerman never really attempted to address in the course of his 4,700-word profile: the role that nepotism may have played in getting both Chris and Abby their big breaks.
Bob Elliott, father to Chris and grandfather to relative SNL newcomer Abby Elliott, first made a name for himself in the late forties as part of the famed radio duo Bob and Ray. Among his influential listeners were future television icons David Letterman and Lorne Michaels, the former of whom gave Chris his first big break in television in the eighties. As Chris tells the story, he was working as a tour guide at Rockefeller Center when he had a chance and brief encounter with Letterman and his mother on the observation deck, during which he managed to drop his father's name into the conversation. A year later, he had a job working as a runner on Letterman's fledgling Late Night program.
Strangely, Zuckerman never really decides to probe further into this incredibly important detail in Elliott's career. Of course, it's pretty much universally acknowledged that almost everyone who gets into showbiz did so because they caught a break from someone powerful at the right time, but in a piece about how the comedy gene got passed down from generation to generation, it would've been nice to know if Chris thought that he would've gotten this opportunity to strut his stuff had his father not been revered in comedic circles.
Zuckerman then repeats his error when detailing the career of young Abby, who became the youngest female cast member in the history of Saturday Night Live when she joined the program midway through last season. Not only was Abby's father Chris a cast member on the show in the mid-nineties, but head SNL honcho Lorne Michaels worked with Bob on a television special way back in the seventies. And while the piece enthusiastically states that Elliott earned her job thanks to a "goofy, over-the-top rendition of a song from The Little Mermaid" during an audition for Lorne Michaels, any details about how the young comedienne managed to land herself said audition after only a short time performing on the Los Angeles comedy circuit were carefully skipped over.
Did it hurt her chances that her father and grandfather worked with Michaels in the past? We can only assume the answer to that question is "no," because, well, Zuckerman never asked it. Did she get the job based solely on her family tree? We don't think so, but then again, we don't know! Our thoughts are that she's done a more than adequate job with impressions since being cast on the show, and she looks to have a promising (if currently largely untapped) potential as a cast member: It's not like we're saying that Abby has any parallels with 30 Rock's loony example of corporate nepotism, Kathy Geiss. But unfortunately, neither one of those questions, nor anything that remotely resembled that line of questioning, made their way into this piece. Which, we're guessing, might just earn Zuckerman another trip out to the Elliott family's vacation home in Maine come Father's Day.