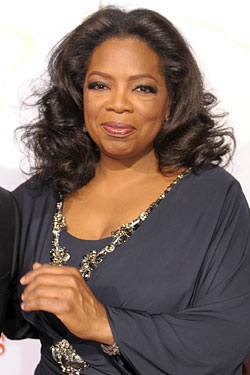 While the rest of the world was hysterically trying to come to grips with the sad reality that we're going to have to watch the Oprah Winfrey Show, gasp, ON A WHOLE DIFFERENT NETWORK two years from now, Vulture buddy Nikki Finke was able to pull herself together long enough to write not only a patented "TOLDJA!" headline, but also to file an interesting behind-the-scenes report of what's been going on at Harpo over the last few weeks. In her extensive report, she not only notes that head CBS honcho Les Moonves was "surprised" when the rumors first started flying a few weeks ago that Oprah was going to bolt from her current deal (that pays her some $275 million a year), but also that Oprah is planning on moving her show from her hometown of Chicago for the greener (and warmer) pastures of Southern California.
According to Finke, Oprah is looking to "divest her real estate in Chicago 'as soon as possible.'" As she explained to her staff, "Why would anybody stay in Chicago? It's freezing here, and I have a mansion in Montecito (California) that I haven't been able to enjoy." She's said to be making decisions about which members of her staff to uproot and move to California in the next six months.
Also, Finke clearly has a good relationship with some moles at CBS, the company that has been syndicating Oprah's show since 2004, as they clue her in to the fact that they feel like they never really got a fair shake at the negotiation table with her. For example, Oprah allegedly kept blowing off potential meetings with Les "Moonvest" Moonves to discuss the future of the show, and she even rebutted his personal offer to make the two-hour drive from Los Angeles up to Winfrey's manse in Montecito to negotiate a new deal. Instead, she called up Moonves last night and told him that she won't be moving the Oprah Winfrey Show as we know it to her OWN network in late 2011; rather, she'll be launching a new show that's "smaller and different."
So where does this leave Oprah? Although she'll be leaving behind the broad reach of network television to move to a much smaller cable network, she likely won't experience the same level of audience attrition that Howard Stern encountered when he bolted from terrestrial radio to Sirius satellite radio back in 2006. After all, the barriers to find a new channel on one's television are minimal when compared to having to pony up for new hardware and a monthly subscription fee, especially considering that she'll have two years to drill into her audience's head that she'll be moving to her OWN cable network. Still, Oprah has lost more than half of her audience over the last ten years, and she certainly won't be able to convince 100 percent of her current audience to follow her to the nether regions of the cable dial. But hey, at least she's going to be warm all year long! So, you know, she's definitely got that going for her.
Oprah Promising Cable Show "Smaller & Different"; Wanting To Move All Operations To LA From Chicago; "It's Freezing Here And I Have A Mansion In Montecito That I Haven't Been Able To Enjoy" [DHD]