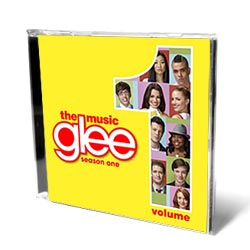 The first volume of the Glee soundtrack is out! And while we can't say it's full of surprises — we get two unaired songs, a few full-length versions of songs abbreviated on the show, and a good mix of the showstoppers — it's definitely worth cherry-picking a few downloads. And so we've ranked and annotated all seventeen tracks to tide you over until the show returns next week.
Meh
17. "Keep Me Hangin' On," Dianna Agron
We don't want to give up on Dianna Agron, but the minute Quinn less-than-convincingly tells us, "And there ain't nothin' I can do about it," we think, "Well, yes, there is — you could start using your chest voice, for starters."
16. "No Air," Lea Michele and Cory Monteith
Already a bit of a stretch in episode context (remember that hallway sequence with wind blowing in Rachel's hair?), and the hints of Auto-Tune don't help.
15. "Keep Holding On," Lea Michele and Cory Monteith
We like a little Avril now and then, and we're all for melodramatic ballads, but the heavy choral verses make it feel a little "We Are the World"-ish.
14. "Bust A Move," Matthew Morrison
One Mr. Schue rap on the soundtrack would've been enough for us, and this one relegates the glee kids to the utter background. Why no selections from the "Acafellas" episode? "Poison," "I Wanna Sex U Up," or "This Is How We Do It" would've been welcome in this slot.
Not Bad!
13. "Bust Your Windows," Amber Riley
A good example of the power of a visual: Mercedes still divas it up, but without Amber Riley's fabulosity and the cheerleader backup-dancers in our faces, the song loses a bit of its pizzazz, and we realize the melody's a little repetitive.
12. "Don't Stop Believing," Lea Michele and Cory Monteith
We're torn: "Don't Stop Believing" fatigue set in quite a while ago, but the cast's rendition of the song is still spot-on, and the ensemble parts gel really well. Still, we'll err on the side of caution: Spend your money on any of the numerous other songs on the soundtrack (which everyone and their mother hasn't seen fit to cover yet).
11. "Taking Chances," Lea Michele
Played for comic relief on the show, the soundtrack offers a full version, and it's too bad we didn't hear it in full before: The lyrics, and Lea Michele's initially shy approach, convey Rachel's secret insecurity and feelings for Finn pretty well. Plus, we've got to give the girl props: In the bridge, she pulls a full-on Celine Dion.
10. "Golddigger," Amber Riley, Matthew Morrison
Mercedes rips into the intro, and Mr. Schue's rapping is impressive, but we still love this one, above all, because the ensemble vocals are believable, discrete parts that the glee club would have been able to handle just as a nascent group.
9. "Dancing With Myself," Kevin McHale
The first of two songs on the soundtrack we haven't yet heard in an episode, and also the first bonafide solo for Artie. It's a jazzy, finger-snapping rendition of the eighties classic that would seem at home at Feinstein's, by which we mean it's a little tame without accompanying visuals — but we're withholding final judgment till we see it in context. We like the idea of an Artie fantasy — maybe one in which he's not wheelchair-bound and attracts ladies by the dozen (we'll likely find out in the next episode, "Wheels").
Kinda Great
8. "Somebody to Love," Lea Michele, Cory Monteith, and Amber Riley
Much easier to stomach without the rote choreography it was paired with on the show, this is a rousing ensemble number. Finn lets loose a little with his vocals, and Mercedes rocks the ending solo.
7. "Take a Bow," Lea Michele
On the Lea Michele Scale of Overemoting, this ranks pretty low, and allows her to show us the hurt in the lyrics. It's a great example of how approach can redefine a song.
6. "Can't Fight This Feeling," Cory Monteith
Finn sang this a capella in the shower on Glee; here we get full instrumentals, a near-full-length version of one of the greater cheesy ballads, and some of Cory Monteith's strongest vocals so far. He's better than many a boy-band member.
5. "Sweet Caroline," Mark Salling
Five words: We. Want. More. Singing. Puck. The recorded version is still woefully abbreviated, and we could do with less acoustic guitar in general. But who knew Puck had a sexalicious voice to match his looks? We'll forever think of this song as a gift from one good lookin' Jew to another.
4. "Alone," Kristin Chenoweth and Matthew Morrison
It nearly reduced us to tears of happiness in the episode, and the jolt of Heart drama is still there. A good example of how Mr. Schue is often better when harmonizing (remember his simple rendition of "Leavin' on a Jet Plane?"). P.S. We miss Kristin.
3. "Defying Gravity," Lea Michele and Chris Colfer
Another one not yet seen, but a potential classic Symbolic Episode Ender. We're not surprised that Rachel would seem right at home singing Elphaba's showstopper belter from Wicked —Lea Michele does, after all, seem to fashion herself a mini Idina Menzel. The real wow factor, though, comes with hearing Kurt sing for the first time! We heard his lovely, warm alto, and first thought it might be coming from a girl (we mean that as a compliment). Plus, the whole "rise above and stay true to yourself" message is super-affecting when we consider Kurt's plot line thus far. More singing, Kurt, please!
2. "Hate on Me," Amber Riley
When a teenage girl can make us momentarily forget Jill Scott, it's a good sign. Boogie down in your apartment! Better lyrics and better instrumentals (that great funk band!) than "Bust Your Windows," and Mercedes sounds better for it. We love when she screams about making her scorned man a metaphorical peach pie.
1."Maybe This Time," Kristin Chenoweth and Lea Michele
Even without visuals, this still feels complete. Kristin, of course, blows Lea out of the water, though Lea's vocals sound a bit better without her overwrought facial expressions attached. We dare anyone not to imagine themselves a little Sally Bowles after hearing this — or to toggle back and forth between the Liza Minelli and Glee versions.