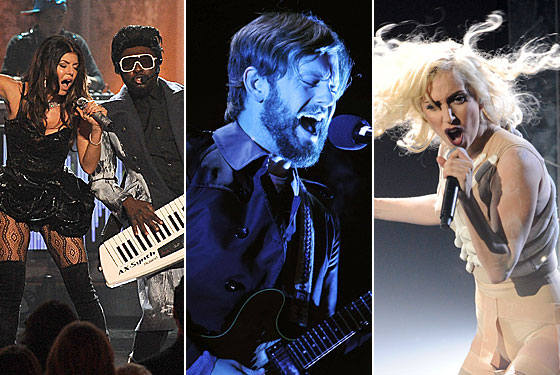 There's no denying the effect that music piracy has had on the music industry. As Michael Hirschorn notes in the cover story of this week's New York, this year's best-selling album (Taylor Swift's Fearless) will likely sell one-quarter the number of copies that the best-selling album in the year 2000 did (*NSYNC's Celebrity). But even though sales of physical products like compact discs have plummeted, some people are amazingly still willing to part with actual money in order to put digital copies of their favorite songs and albums on their hard drives. So which artists proved to be the most popular among the technologically inept in 2009?
According to the just-released list of the iTunes store best-sellers for the calendar year 2009, preteens and housewives everywhere just couldn't get enough of the Black Eyed Peas: Both of their Song of the Summer entries, "Boom Boom Pow" and "I Gotta Feeling" (we're still offended by the poor grammar in the latter's title!), were among the top four most downloaded songs of the year. Flo Rida, Lady Gaga, and the All-American Rejects filled out the rest of the top five.
On the LP side, the Kings of Leon hit the jackpot with their 2008 breakthrough smash, Only by the Night. (Side note: we found ourselves driving in a car this weekend for the first time in ages, during which time we heard "Use Somebody" approximately nine times during four total hours spent in the car.) The year's other top-selling albums in crappy 128-kbps form include the Twilight soundtrack (but, surprisingly, not New Moon's!), Lady Gaga, Taylor Swift, and the Dave Matthews Band.
How about you, the loyal Vulture readership? Do you steal all your music? (Don't worry, we won't rat you out.) Do you ever find yourself buying things from the iTunes store and, if so, why? Or are you one of those cats who only buys vinyl?
iTunes' Best Sellers Of 2009 [Maura Johnston/Tumblr]