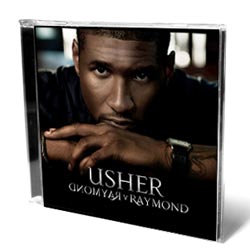 Usher, Raymond vs. Raymond

Official release date: February 1
The Verdict: Usher Raymond IV didn't name his new album Raymond vs. Raymond as a tribute to late-seventies Dustin Hoffman, unfortunately. Rather, it's a reference to his divorce from Tameka Foster-Raymond. Like his 2004 diamond-certified Confessions, Raymond is partially a breakup album. It starts off with the lead single "Papers" (as in, "I'm ready to sign them … "), and from there, we get a pretty good idea of the how the relationship fell apart. Turns out, she was paranoid for no reason — checking Usher's phone ("Cutter Off") and listening to her foolish friends ("Echo," the second-best R&B song this year with that title) — because Usher didn't cheat. Sadly, though, it turns out, his girl did. Specifically, in Cancun, Georgia, and Vegas ("One Hand").
Raymond's not one big bum-out, though, as we get plenty of slick party and sex songs (most notably "Traffic" and "Hey Daddy") and late-career-Michael Jackson–style balladry. A couple more observations: "Let me rock you like a rock band" ("Rock Band") might just be pop music's laziest-ever simile; also, no Usher album needs to be more than an hour long, even if it has a song called "Blockin'" that is totally about cock-blocking.