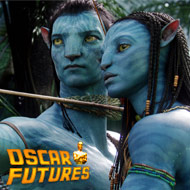 Every week between now and February 2 when the nominations are announced, movies and stars will help themselves — or sometimes, hurt themselves — in the Oscar race. Vulture's "Oscar Futures" will listen for insider gossip, comb the blogs, and out-and-out guess when necessary to track who's up, who's down, and who's currently leading the race for a coveted nomination.
Best Picture
UP: Avatar. It's a monster hit, it landed on lots of big critics' best-of lists, and the backlash already happened weeks ago, so anybody still nitpicking just sounds like a whiner. Also, the Gurus of Gold now have it in the lead to win Best Picture.
DOWN: Nine. Toxic reviews and now unimpressive box office. Harvey's lucky that it's a crappy year and there are ten slots.
CURRENT PREDIX: Avatar, An Education, The Hurt Locker, Inglourious Basterds, Invictus, Nine, Precious, A Serious Man, Up, Up in the Air.
Best Director
UP: James Cameron, Avatar. Ten days in theaters and Avatar's already made a third of what Titanic did. If nothing else, he'll have the top-grossing movie of any serious contender here.
DOWN: Jason Reitman, Up in the Air. The backlash arrives! The Gurus of Gold have his movie dropping out of first place, and all of Jeff Wells's friends were disappointed by it (for what it's worth, many of our Twitter friends disliked it, too).
CURRENT PREDIX: Kathryn Bigelow, The Hurt Locker; James Cameron, Avatar; Clint Eastwood, Invictus; Jason Reitman, Up in the Air; Quentin Tarantino, Inglourious Basterds.
Best Actor
UP: Jeff Bridges, Crazy Heart. Waning enthusiasm for Air presumably means good things for George Clooney's primary competition here.
DOWN: Daniel Day-Lewis, Nine. Well, moviegoers have finally heard him sing.
CURRENT PREDIX: Jeff Bridges, Crazy Heart; George Clooney, Up in the Air; Colin Firth, A Single Man; Morgan Freeman, Invictus; Jeremy Renner, The Hurt Locker.
Best Actress
UP: Meryl Streep, Julie & Julia. Decent box office and good reviews (for her performance, at least) for It's Complicated certainly don't hurt her chances.
DOWN: Marion Cotillard, Nine. She's the best part of a movie nobody seems to like, which won't help her in a race this competitive.
CURRENT PREDIX: Sandra Bullock, The Blind Side; Helen Mirren, The Last Station; Carey Mulligan, An Education; Gabourey Sidibe, Precious; Meryl Streep, Julie & Julia.
Best Supporting Actor
UP: Jude Law, Sherlock Holmes. Not that we expect it to pay off in a nomination or anything, but critics seem to like him in Holmes more than they have in ages.
DOWN: Alfred Molina, An Education. With last-minute surges for Woody Harrelson and Christian McKay, his category's getting crowded and support for the movie seems to be evaporating.
CURRENT PREDIX: Matt Damon, Invictus; Woody Harrelson, The Messenger; Christopher Plummer, The Last Station; Stanley Tucci, The Lovely Bones; Christoph Waltz, Inglourious Basterds.
Best Supporting Actress
UP: Mo'Nique, Precious. Not much movement here in the past week, but at this point she'd probably have to whack Gabourey Sidibe with a frying pan in real life to lose this award.
DOWN: Penélope Cruz, Nine. She wouldn't have beaten Mo'Nique anyway, but the cratering support for her movie doesn't bode well.
CURRENT PREDIX: Penélope Cruz, Nine; Vera Farmiga, Up in the Air; Anna Kendrick, Up in the Air; Mo'nique, Precious; Julianne Moore, A Single Man.