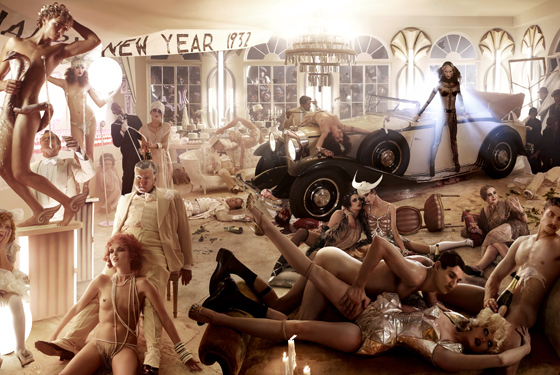 At Art Basel Miami, nothing succeeds like excess. With sales surprisingly strong — Pace Wildenstein sold virtually its entire booth, while LES's Lisa Cooley, at the nada fair, moved more than half of hers — the mood was giddy. For good or ill, millionaires (and billionaires) brought home art almost like vacation souvenirs. And the only question that people asked more than "Is it an edition?" was "Is there an open bar?" With it all ending yesterday with the Scope Art Fair's party at the Standard's Mud Room, we look back at the top ten moments of excess.
10. Art Basel Miami Beach's Opening Party. The mood was set from the get-go: Glazed pigs with maraschino-cherry eyes gleamed in the sunset at the Mondrian Hotel, set for slicing. For hotel guests, it was super-size Caipirinha's at check-in. "Special for Art Basel!" trilled the waitress.
9. The Box at Nikki Beach. Images of Michael Jackson were everywhere — he's apparently the new Marilyn Monroe icon of the art world — but this burlesque show had a spinning Michael, some sword-swallowing, cabaret, and drinks so potent it's all a sequined blur. At the door, artist Kenny Scharf came to the aid of strangers who were not on the list, crying "They're with me!"
8. The main fair. It was an orgy of glorious art (by Calder, Warhol, and all their aesthetic children) in booths much bigger than last year. The layout, meanwhile, was confusing — maybe deliberately so. The corn maze of modernism was difficult to escape for those who wanted to visit rival fairs. Waiters rolling carts with champagne bottles in tubs of ice become default traffic cops. "Aisle B is that way," one said, although it was the other direction.
7. The Museum Directors Panel. When it began to rain on museum directors speaking while seated on a beachside stage, cute girls in wet ABMB T-shirts thoughtfully ran over to hold umbrellas above their heads.
6. The Snob Party. Free-spending Russians were in town, some gathering at the Snob magazine party Saturday at the Shore Club. There, Russian performance artist Andrey Bartenev unspooled videotapes into a pile of magnetic tape while dressed as a giant inflatable centipede. Highlight: Revelers licking an ice sculpture that looked suspiciously like a giant phallus.
5. Kehinde Wiley's Fish Fry. Here the scene was quiet, the crowd small and select (Jeffrey Deitch and ABMB founder Sam Keller seem to plot the future of the art world in a shaded corner). But the food was over-the-top: Whole sides of catfish anchored a soul-food extravaganza that, with all the second and third helpings, resulted in a shortage of plates and silverware. Wiley, celebrating the $175,000 sale of his portrait of an armored Michael Jackson riding a white horse, and wearing a blood-red-and-white suit, explained: "My art is maximalist."
4. Nadia Swarovski's Crystal Rooftop. A glimmering party, with a D.J. who resembled Cleopatra, if ancient Egypt had Vegas-style headgear. The gift bag contained an apple-size paperweight in the shape of a diamond. Happy revelers joked about dropping one from the penthouse onto the Frenchman who was below, yelling loudly to get past the velvet rope.
3. Aby Rosen's Dinner at the W South Beach. The blockbuster: Rosen, Peter Brant, and Warhol-amasser Tico Mugrabi throw a private dinner at Rosen's W for 700 of their closest friends, with so many crashers, people took their seats in shifts. Dessert was a buffet with nineteen choices; maybe it was the mango mousse that drew Val Kilmer and Naomi Campbell. Collector Eli Brant announced that there were good bargains on art available. For some reason, Tony Shafrazi arm-wrestled Brant, and Rosen danced on a table.
2. Old Havana in Key Biscayne. Cuban Art star Carlos Estevez, leader of the Cuban Art Movement, hosted a collectors party at the Ritz Carlton that seeked to re-create mid-century Havana. The fête was so elaborate and atmospheric — vintage autos, costumes, rare rums, music, movies — you half expected Fredo Corleone to step out from the shadows and put out a hit on Michael. "It's all art!," cried Estevez, welcoming the crowds.
1. David LaChapelle's Art Deco "Happy New Year 1932." As the party began, synchronized swimmers in flowered bathing caps and glittering maillots dove into the Raleigh pool and performed "Putting on the Ritz." Commissioned to do a photo series by the German luxury automaker Maybach ($500,000 per car), LaChapelle hung a nifty giant photo above the bar, showing the car running over someone at a wedding party gone mad. "When we come to care about things too much — art, cars, anything — that's decadence," the artist said, waxing philosophic. By the end, the event looked like the birthday party scene from The Rocky Horror Picture Show, except with hundreds of black and silver balloons and less clothing. Anthony Haden-Guest ended up mostly naked, wearing little other than a party hat.