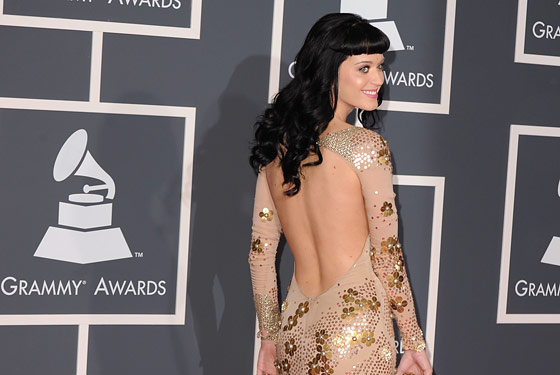 8pm: Here we are at the Grammys, ready to celebrate music that's over a year old. Yaaay! The red carpet was mostly 'eh,' except for Lady Gaga's awesome Armani wand wheel and Rihanna's future-Victorian ensemble. (You can see the red carpet looks here. Watch the Grammys in 60 seconds here.)
8:03pm: Gaga and Elton John are grimy and bedazzled, playing "Your Song" on a Siamese piano sprouting black patent-leather (maybe?) human arms. Go go Grammys!
8:08pm: Stephen Colbert couldn't care less about anyone he's mentioning. "Now I'm saying the people's names they want me to say. Another name! You gotta love music — everyone listens to it! Susan Boyle, everyone!"
8:15pm: Beyonce takes Song of the Year with "Single Ladies," and Green Day performs a musical version of "American Idiot" with what looks like the cast of Rent. Badass!
8:18pm: Hopefully they'll show Nicole Kidman's lips again.
8:26pm: We'd like Taylor Swift a lot more if she were just like, "Yup, I'm obviously winning everything, you idiots."
8:31pm: IS BEYONCE SINGING ALANIS!!? Aaah. Oh, Bey. Seriously, come over. Hang out. You are the best. Dave Coulier, do you think of her when you ___!?
8:41pm: Again with the hanging-in-the-air-and-singing for Pink (seen first, and more impressively, at the VMAs). The whole act is sort of — oh, and now she's soaking wet, spinning, and spraying everyone in the crowd with water. Are we sure she's not urinating? Would enjoy some footage of drizzled audience members recoiling. Watch Pink's performance:
8:48pm: Sorry to the diehard Zac Brown Band fans, but huh? Who are those people? In any case, they have won Best New Artist and are promptly music-prompted off the stage.
8:50pm: "Who will be the Queen of the Grammys? Beyonce, Taylor Swift, or Lady Gaga?" So, this is basically prom, which is fine. Better, even!
8:57pm: Fergie looked in the mirror and was like, "Yup, this visor is definitely the way to go. Good choice, Fergie! You nailed it again!!"
9:00pm: So, every musical performance has a corresponding commercial airing directly before or after that features the same song. Got it.
9:55pm: Let the MJ tribute star-flood begin! Celine Dion, Usher, Carrie Underwood, Jennifer Hudson, Smokey Robinson… No Omarion, we see.
9:13pm: Best Comedy Album. Good God. "Sadly, no one won, because we decided, rightly, to cancel this category at the last minute, phew!" Just kidding, no, the show goes on. Stephen Colbert takes home the prize, which makes the fact that he's hosting make sense. Wink, nudge.
9:15pm: Oh, but no kid gloves for Mr. Colbert. Even the host gets the exit music. Let's keep this show rolling on the road, or whatever.
9:18pm: Norah Jones, looking 100% adorable, gives the Record of the Year award goes to… Kings of Leon! Ya burnt, Lady Gaga. Kings of Leon: "We're drunk, sorry!"
9:22pm: Josh Duhamel, visibly bored by Jamie Foxx's, clowny, Musketeer-y fake-opera whatever-or-other rendition of "Blame it on the Alcohol." Haha.

9:26pm: Whoa, hard to keep up. Jamie Foxx sings fake opera, which turns into "Alcohol," and he's joined by T-Pain in a white tux, who're then joined by a mysterious, larger, plainly dressed woman who's just standing around doing nothing mostly, and then they're all joined by Slash, who, we think, played his "November Rain" solo. Crazy. [Update: That was his sister on stage with Jamie. Thanks, commenters!]
9:27pm: Stephanie Pratt Ke$ha is THAT MUCH BIGGER than Justin Bieber? Good lord. Biebs is a baby! A perfect little doll man. A doll man who just called Bon Jovi "Beyonce," and then made an adorable save. Nice work, Bieber. Watch Ke$ha and Bieber:
9:33pm: Katy Perry, her blinky-winky eye, and Alice Cooper hand the Best Rock Album award to Green Day. Clean and efficient. On to the next one.
9:34pm: Remember when they cut off that Kings of Leon guy, turned off the mike, and shut down the lights? That was sad.
9:39pm: OK, so that was the Zac Brown Band! Now we know. Dude can really burn down an axe! (To the members of our Grammys party: "What's a slang word for a guitar?")

9:46pm: If you love Taylor Swift so much, Grammys, why don't you marry her?
9:47pm: Taylor Swift should get slimed, Double Dare-style. Seriously. Bucket of slime on her head.
9:48pm. Oh, but don't slime Stevie Nicks. Take Taylor to school, Stevie. Take her to a school where she has to stop singing your song. Also, Grammy people: You got Stevie Nicks to perform, and you're wasting her by letting Taylor Swift drown her out with off-key wailing on her own song? Shameful.

9:53pm: OK, everyone — time to put your 3D glasses on. You know, the 3D glasses everyone always has just lying around all the time.
9:55pm: Let the MJ tribute star-flood begin! Celine Dion, Usher, Carrie Underwood, Jennifer Hudson, Smokey Robinson… No Omarion, we see.
9:57pm: Hahaha! Will.I.Am does not look happy to be wearing his 3D glasses. Beyonce and Rihanna, on the other hand, are loving it. Meanwhile, we were not given 3D glasses.
10:01pm: And the MJ tribute is over. Pretty nice. Kids seemed a little uncomfortable at the end there (tremendously uncomfortable, actually, but they're kids, and it's the Grammys, and… they're kids), and the 3D thing was weird. It was sort of surprisingly short and devoid of MJ classics, but there you go. Watch video of Michael Jackson's children:
10:11pm: Bon Jovi's looking a little Bieber-ly, no?
10:14pm: And the "Fans' Favorite Bon Jovi Song" award goes to… "Livin' on a Prayer." And now they're playing it. Can you believe this!?!? Yup!!! It's all pretty regular, actually!!!

10:16pm: Mos Def and Placido Domingo, together at last. Mos Def: "Placido, I don't know why we ever broke up." Haha. And the Best Rap Collaboration Award goes to… Jay-Z and Rihanna, for "Run This Town." No cut to Beyonce? Come on! Who's even manning these cameras?! Also, who was that child they brought onstage? [Update: It was Solange's son.]

10:31pm: Andrea Boccelli and Mary J. Blige absolutely kill it with a terrific rendition of "Bridge Over Troubled Water," from the Haiti Relief/Grammys CD (buy it here). Really lovely. Hats off. And hats off to whoever thought of that combo. Refreshing to hear some good, old-fashioned phenomenal singing.
10:40pm: And now for the required "Please don't download music illegally" interlude. Smart that they chose such a hot young woman to deliver that message, so that everyone'll pay attention and not use this section to go to the bathroom. Just kidding, it was an older man whose name we didn't catch. We only do what hot ladies tell us!
10:44pm: A slovenly Adam Sandler introduces a Piven-ly Dave Matthews, who sings a cheesily happy song with a 40-person musician entourage. So. Yup. That was that!

10:46pm. Doesn't Ricky Martin look like Ronnie from the Jersey Shore?
10:47pm: Eat it, Taylor! Beyonce had one of the Best Female Pop Vocal Performance of all of 2009. And an adorably short and classy speech.
10:55pm: SHOW MORE COSTUMES. This is boring. Hope Lady Gaga falls out of the ceiling, explodes, and then crawls out of her own bloody mouth, in miniature, and grows back to life-size by licking paint off the floor. OR WHATEVER. Let's speed this love cruise up.
11:00pm: Ah, we timed our "This is boring" rant perfectly with the beginning of the "In memoriam" tribute montage. Great work, Vulture.
11:03pm: Nice to see Russell Brand timed his shirt-unbuttoning with the "In memoriam" montage as well. (To be fair, he probably unbuttoned it earlier. So. Whatever. Shirts!)
11:07pm: Jeff Beck and his gold-sheathed rockabilly babe make way for Taylor Swift's Valentine's Day commercial! Or are the Grammys a long commercial for Valentine's Day? And Green Day's American Idiot musical? And the Black Eyed Peas's thing? And Target? Whuuuuut. Anyway, time to buy some items and such.
11:12pm: Why is Quentin Tarantino talking like that? Why is Quentin Tarantino? Watch Tarantino's weird introduction:

11:13pm: Lil Wayne and Eminem perform "Drop the World," with comically long bleeped-out stretches. Pretty rad, though. Oh and here comes Drake! This is the first we've actually felt excited all night. Really good. HA, Jamie Foxx is getting it all on his video camera phone thing, or whatever it is. (Can we get a Wayne/Gaga/Stevie collab someday?)
11:26pm. THE MOMENT WE'VE ALL BEEN WAITING FOR. Best Album goes to…Taylor Swift. Ugh. Where are you, Kanye???? A nation turns its dum-dum eyes to you.

11:27pm: More footage of Gaga's icicle unicorn costume, plz.
11:28pm: Nope, nevermind, that's it. We're gonna go barf ourselves to sleep. Byee!