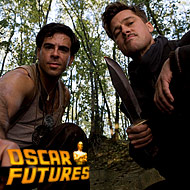 Every week between now and February 2 when the nominations are announced, movies and stars will help themselves — or sometimes, hurt themselves — in the Oscar race. Vulture's "Oscar Futures" will listen for insider gossip, comb the blogs, and out-and-out guess when necessary to track who's up, who's down, and who's currently leading the race for a coveted nomination.
Best Picture
UP: Inglorious Basterds. It's by no means likely or anything, but with enthusiasm for Up in the Air waning and our own skepticism about Avatar's chances, a Basterds victory seems increasingly not-crazy. Tom O'Neil and Guy Lodge explain why.
DOWN: Nine. The stinky reviews kept moviegoers away, but couldn't make stubborn Harvey reduce the film's theater count. Let us know when Nine's per-screen average hits $9.
CURRENT PREDIX: Avatar, An Education, The Hurt Locker, Inglourious Basterds, Invictus, Nine, Precious, A Serious Man, Up, Up in the Air.
Best Director
UP: Lee Daniels, Precious. As buzz cools on other former top contenders, his chances of a nod seem better and better.
DOWN: Rob Marshall, Nine. Given all recent disasters, if Lee Daniels doesn't knock him out, Clint Eastwood or the Coens will.
CURRENT PREDIX: Kathryn Bigelow, The Hurt Locker; James Cameron, Avatar; Lee Daniels, Precious; Jason Reitman, Up in the Air; Quentin Tarantino, Inglourious Basterds.
Best Actor
UP: Jeremy Renner, The Hurt Locker. Here's another (totally deserving) star who can thank Nine for his better odds this week.
DOWN: Daniel Day-Lewis, Nine. For all reasons above, this now seems like a long shot.
CURRENT PREDIX: Jeff Bridges, Crazy Heart; George Clooney, Up in the Air; Colin Firth, A Single Man; Morgan Freeman, Invictus; Jeremy Renner, The Hurt Locker.
Best Actress
UP: Zoe Saldana, Avatar. It'll never happen, but Jeffrey Wells and David Poland are calling for her motion-captured performance to be nominated.
DOWN: Helen Mirren, The Last Station. If the Academy actually were to nominate Saldana (or, say, Abbie Cornish), Mirren's nomination looks the most vulnerable.
CURRENT PREDIX: Sandra Bullock, The Blind Side; Helen Mirren, The Last Station; Carey Mulligan, An Education; Gabourey Sidibe, Precious; Meryl Streep, Julie & Julia.
Best Supporting Actor
UP: Christian McKay, Me and Orson Welles. A late surge makes a nod seem totally fathomable. New York's David Edelstein calls his performance as Orson Welles a "supernatural incarnation of the man himself."
DOWN: Matt Damon, Invictus. Have you heard anyone call his performance a supernatural incarnation of anything? With excitement dropping for Invictus, McKay could nab his spot.
CURRENT PREDIX: Matt Damon, Invictus; Woody Harrelson, The Messenger; Christopher Plummer, The Last Station; Stanley Tucci, The Lovely Bones; Christoph Waltz, Inglourious Basterds.
Best Supporting Actress
UP: Mo'Nique, Precious. Has she engaged in any behavior this week so foul that it might discourage an Oscar voter who's already tolerated everything else she's said and done this season? No? Well she'll still win, then.
DOWN: Penélope Cruz, Nine. She's great, sure, but will her movie's continued misfortune endanger her nomination? Samantha Morton and Mélanie Laurent are pretty good too.
CURRENT PREDIX: Penélope Cruz, Nine; Vera Farmiga, Up in the Air; Anna Kendrick, Up in the Air; Mo'nique, Precious; Julianne Moore, A Single Man.