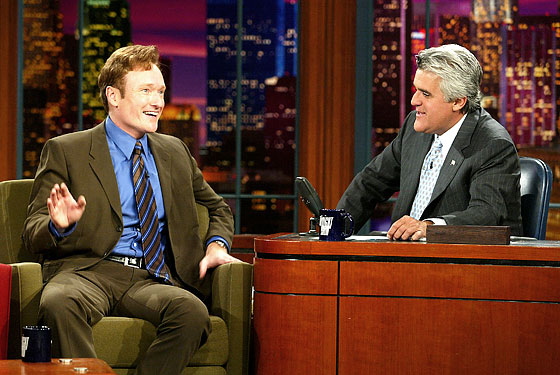 Again, wow! We expected that Conan O'Brien would be issuing some sort of public comment on the whole Latenightpocalypse fiasco that's been brewing for the last few days, but we never expected him to pen a 550-word opus that contained such ballsy candor. We've read his letter a good six or seven times in the last hour or so, and every time we look at it anew, we're still surprised to see phrases like, "It was my mistaken belief that I would have the benefit of some degree of ratings support from the prime-time schedule," "terrible difficulties in prime-time," "enormous personal disappointment," and "I cannot participate in what I honestly believe is [the show's] destruction" appear in it. That said, what does it actually mean?
First things first, will he do the Tonight Show this evening?
Conan's show doesn't tape until roughly 8 p.m. EST, so we won't know for sure until then, but there is nothing in this letter that says that Conan has resigned as host (or, for that matter, that he's necessarily planning on quitting NBC entirely). Rather, he wrote that, "My hope is that NBC and I can resolve this quickly so that my staff, crew, and I can do a show we can be proud of, for a company that values our work." So, we can't imagine that he would simply walk away from the franchise this evening. UPDATE: TV columnist extraordinaire Alan Sepinwall has confirmed with NBC that tonight's episode of the Tonight Show With Conan O'Brien will, indeed, be a new one.
What's going on with Fox?
According to a report written by Bill Carter of the New York Times, the contractual situation doesn't seem to be as clear as TMZ made it out to be yesterday. Not only is Conan is still under contract to NBC, but the NBC brass doesn't believe that their decision to install Jay in the 11:35 time slot violates Conan's contract. This means that if Conan were to breach his contract and quit the program, he could have to wait as long as a YEAR before he was able to launch a show on another network.
So if NBC thinks that they're in the clear, legally speaking, what was Conan thinking by writing this letter?
Well, we can't believe that Conan is naïve enough to have released a statement that throws his current employer under the bus in such extreme fashion without having flown it past his legal counsel first. This leads us to believe that his legal team believes they can make a case that NBC breached the terms of Coco's contract. Then again, there's always the possibility that Conan and his team realized that he didn't have a defensible position and decided that the best (and possibly only) way to extricate themselves from the clutches of NBC was to embarrass them publicly. If so, mission accomplished!
Could it be that maybe, just maybe, NBC is actually getting what they want if Conan quits and they can reinstitute Jay Leno as host of the Tonight Show?
That sure seems to be the case, doesn't it? NBC executives clearly believe that moving Leno back to 11:35 is in their best interest, regardless of how it affects Conan. After all, Jay Leno was beating David Letterman in the ratings for a solid fifteen years when the two went head-to-head, but a number of Tonight Show viewers quickly switched their allegiances to Letterman once Jay "retired" and Conan stepped in. What remains to be seen is how much Jay Leno's reputation has been damaged by his disastrous move to 10 p.m.: NBC is clearly betting on the American public having a short memory in this regard and that they'll welcome Jay back to the Tonight Show with open arms. Additionally, if it turns out that NBC pissed off Conan to the point that he would walk away from his contract without them having to cut him (and his staff) a huge check, they will probably end up saving themselves some money in the short term by airing Jay at 11:35 and Jimmy Fallon at 12:35. Don't assume that a couple of ruthless execs like Jeff Zucker and Jeff Gaspin would never resort to a hard-core negotiating tactic like this. After all, it's times like these when we flash back to what Jerry Maguire taught us about the industry: Remember, it's not show friends, it's show business.
As they say, developing!