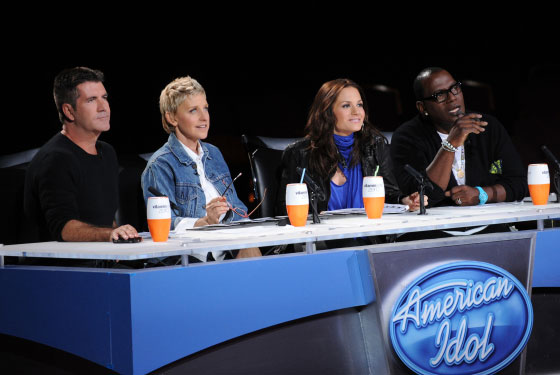 And so we finally get to the moment Idol fans have been impatiently waiting for through all the revolving judges, both good and bland: the ceremonial seating of Ellen in the Paula position. Any of her talk-show fans who hoped she would bop into the Kodak Theatre with a reassuringly dorky dance and attempt to dampen the stings of Simon's arrows were probably disappointed. But anyone who wants the best for the show was reassured; she was jokey, yes, but also honest with her critiques in a way that Paula was incapable of. And with last season's addition of Kara, the last thing Idol needs is more of that good-will-toward-men crap.
But Ellen hardly adopted Simon's "impress me or die" attitude, either. She managed to cut into people without ever depriving them of their dignity, making jokes at their expense but not dismissing them outright. She also wasted no time addressing the fact that she has no musical background by assuring audiences that she has spent years learning what entertains people. So far, so good: Unlike two of her peers with actual music-biz résumés, she consistently offered meaningful feedback to each contestant. Instead of enigmatic platitudes such as, "I like you, dawg" or "One thousand percent yes," Ellen explained to each performer how they made her feel.
Take Skiiboski, still just as proud of his nonsensically spelled nickname as ever. What emotion did he elicit from Ellen? Fear. She told the smooth-talking Atlanta native that his prowling performance style frightened her, and warned him there was a thin line between "sexy and scary." Sure, a harsh edge framed her criticism, but overall her jovial overtone made her insult come off as less demeaning than a pitying "I'm sorry, sweetheart," from Kara.
Also promising were the snippets of conversation during the judges' deliberation. Ellen was honest and businesslike, saying of one singer, "I could see her getting really annoying." That's the kind of foresight that all viewers should be thankful for. She even urged the others to axe one more hopeful because otherwise they had only eliminated two in that group; few would have predicted her being the ruthlessly efficient one. (Though watch below for one of her mercifully few shticky "Everyone's a winner!" moments.)
So how did the 181 second-rounders fare? Here are some of the familiar faces from the auditions:
• Andrew Garcia (whose father is a former gang member) was the night's clear winner, turning Paula Abdul's dance-pop No. 1 hit "Straight Up" into a lively acoustic guitar jam. His expert vocal phrasing and the joy he injected into this silly song with his spirited strumming makes him the most musically interesting contestant so far. One could almost hear America erupt into Paula's seal-like hand-claps.
• Katy Stevens from the Atlanta auditions told us again that she wants to make her name before Alzheimer's makes her grandmother a stranger to her, but this is the point in the show when sob stories are reiterated just to possibly increase the heartbreak when the sobber is axed. This one worked out well, though, for now: The control she exercised over her soulful, full-bodied voice is all the more impressive given that she's only 17. There's not much stage presence to speak of, but she seems comfortable and is good enough to make it to the next round.
• And sometimes the story of uplift comes to a swift end. Vanessa, the bridge-jumping country girl, sadly bombed with Blind Melon's "No Rain." Her decision to tone down the honky-tonk in favor of a more palatable, frequently regurgitated song was inadvisable. After all, it was her spunky personality, not her voice, that got her to Hollywood in the first place. She got her first ride on an aeroplane, yes, but sadly her second ride home came very quickly.
• Lilly Scott's alluring rendition of an Ella Fitzgerald tune worked, but it's hard to shake the feeling she's too much like her peacock earrings — attention-grabbing but wholly familiar.
• Before singing a soulful, adequate "Waiting on the World to Change," the cheerfully Hulk-like Michael Lynche informed the judges that his wife's water just broke and she was about to give birth to their first-born child. We're confused: Is putting fame before family supposed to make us want him to win more?
• The shaggy-haired Tim Urban sang former Idol winner David Cook's "Come Back to Me" (which has yet to be released as a single) and accomplished something most early contestants don't by building a sense of story with his singing. When Simon cut him off, you still wanted to know where he was going with it.
Other notables who got the axe:
• Beat-boxing singer Jay Stone, who was gone as the first drops of saliva shot off his lips.
• Whip-wielding former Barney girl Erica.
• Unrelentingly chipper New Jersey sisters Amanda and Bernadette.
• Cornelius, who ripped his pants in Orlando. But we knew that was going to happen; the only way he'd have been passed on would be if he did a high kick and all of his clothes exploded into a cloud of cotton fiber.
Tomorrow: Group night!
Other Recaps:
Entertainment Weekly's Michael Slezak was pleased to see that "On a night where [Ellen's] addition to the judges' panel was The Story, the comedian/talk-show host seemed to take a deliberate back seat to the contestants."
The A.V. Club's Claire Zulkey wasn't happy that Italian big guy Amedeo gave up so easily: "Instead of begging for a second chance, he should have gotten his tiny old grandma to come out and weep, rosary in one hand, rolling pin in the other."
TV Guide's Adam Bryant addressed the elephant in the Kodak Theatre: "These selections are all sponsored by Vitamin Water. Did you notice the judges' new drinks? Goodbye huge red Coca-Cola cups!"