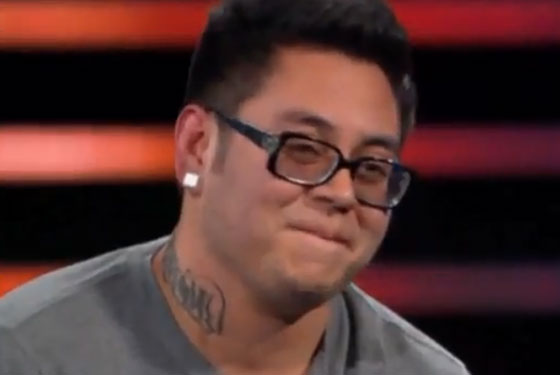 Last night American Idol finally revealed the complete top 24 contestants for season nine. There were no big surprises, aside from the exclusion of talented third-time Hollywood hopeful Angela Martin, who had been forced to step down in her previous years, first because of the death of her father, and then because she needed to spend six days in jail for a traffic infraction. (It was as if her arc were scientifically crafted in the American Idol labs to achieve maximum salvation in her third go-round, and yet the judges still miraculously passed.) The show was better off for this lack of shock reveals — that straight-forward approach made the episode much more satisfying than Tuesday's. No longer bogged down with the contrived story arcs and faux suspense that can make Hollywood Week so irritating, the episode was a soft lead-in to the impending semi-finals. Even the victorious contestants were oddly muted, with several of them accepting their top 24 wins with determined smiles and grim elegance, almost like Obama at his inauguration. Well, almost.
Here are the remaining 17 contestants who round out the top 24:

Janell Wheeler: She auditioned with "The House of the Rising Sun" and got through despite an initial "no" from Simon. Desperate to label her, the show describes her as "the cowgirl from the sunshine state."

Tyler Grady: Apparently having missed the retro-chic trend of the last decade, Kara still can't get over his shaggy hair and vintage clothing. He says his idols are Robert Plant and Roger Daltrey, but the kid from Almost Famous is probably more his speed. Regardless, his rock and soul vocals are the real deal.

Lacey Brown: Her well-phrased version of "What a Wonderful World" was good enough for the producers to use in a cheesy montage of other hopefuls getting the good news.

Ashley Rodriguez: She has soul and grace. Watch out for her.

Alex Lambert: He has … well, eighties sunglasses.

Paige Miles, Joe Munoz, Michelle Delamor, Siobhan Magnus, and John Park: Not ringing any bells? That's because these five are great at singing but terrible at coming up with compelling sob stories. Come up with a dying relative quick if you want that camera love, guys!

Tim Urban: A last-minute addition to the top 24 after the producers disqualified Chris Golightly for a lapsed record contract he hadn't told them about.

Jermaine Sellers: God saw fit to bring this mild-mannered gospel soul singer into the top 24, even after he committed the cardinal sin of criticizing the band onstage. Apparently God also has Lead Singer Disease.

Crystal Bowersox: After Randy called her Momma Sox, we're reminded why they keep him around.

Katy Stevens: She's the girl who wants to make it big before she loses her granny to Alzheimer's. Now it's up to America to decide how much that matters to them.

Haeley Vaughn: It will be truly interesting to see someone with an idiosyncratic non-mainstream style (honky-tonk pop isn't so hot these days) competing in the top 24.

Lilly Scott: Kara throws Ms. Peacock Earrings a surprisingly believable fake out, saying Lilly has a limited voice and pointing out that Idol usually rewards those boasting a more dynamic range. "But I don't always believe that's the best singing," Kara continues, "So you're going through to the next round."

Andrew Garcia: After his acoustic pop reinvention of Paula Abdul's "Straight Up," his entry into the top 24 was a foregone conclusion. "I just like messing with songs," he tells the judges. If that's a promise, he might become the reason to tune in to Idol this season. After getting full judicial approval, the young father — whose own dad worked hard to get the Garcia family out of Compton — breaks down, though he does manage to assure Ryan through his tears that "I'm usually the cool guy." No matter your cynicism level when it comes to Idol, check out the waterworks in the video below and try to pretend it doesn't move you.

Next Tuesday we see the female top twelve performing live — so get your cell phones and auto-dialers ready.
Other Recaps
The AV Club's Claire Zulkey complains that "While I don't have anything to hate about Tyler Grady, I'm not a fan of his Peter Frampton look."
TV Guide's Mickey O'Connor points out that Janell Wheeler "unwisely uses her moment in the spotlight to trash her job at a wine distributor … She will sorely regret this decision over the next few weeks."
Entertainment Weekly's Michael Slezak has decreed that "The blonde, dreadlocked [Crystal Bowersox] is among season 9's greatest natural resources."