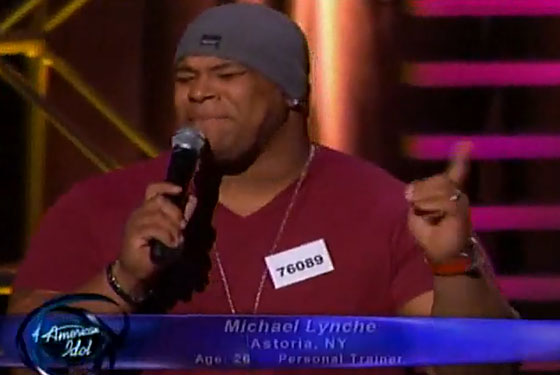 Things got downright messy on last night's American Idol, as often happens when ambitious and theatrical people are forced to rely on others to make their dreams come true. Phony smiles melted into clenched teeth, and puckish winks were replaced with eye rolls. Thank the Idol gods (Coke? Ford?) for group night! Most importantly, last night finally gave this season its first personality to be reckoned with: Mary Powers, the single mom/Hot Topic rocker who will not let a little thing like teamwork get between her and fate.
The power ballad-belting 28-year-old made an indelible impression last night when she unsuccessfully tried to eject two members of her five-person group before they even began rehearsing. In a way, one has to admire her ruthless moxie: The remaining teammates deemed good enough to back up Mary may have grumbled about her aggression, but they didn't do anything about it. One of them simply stood by helplessly flapping her hands and murmuring, "I don't know, I feel bad." This had Diana Ross and the Supremes written all over it, albeit written in eyeliner purchased at Claire's.
While we appreciate her indifference to what others think of her in her quest for victory, berating people is hardly the best way to coax a worthy performance out of them. She actually called one guy in her group "the weakest link" — and he wasn't even one of the ones she tried to eject. Even the pianist helping them rehearse informed her she was going too far. Yet, in the end, she did succeed. Most of her teammates sleepwalked (and worse) through Fleetwood Mac's "Dreams," whereas she pulled her own, albeit after beginning with an odd exasperated half-laugh that seemed like a subtle message to the judges — This isn't going to be good, and you and I know it's because of these clowns behind me. Her fellow Dream-er Hope stunningly told the camera she thought Mary's vocal trills were oppressive: Yes, God forbid Mary actually make use of her talents during this audition. When she made the cut, she almost looked disappointed when two of her teammates survived along with her.
Michael "Big Mike" Lynche (Ryan Seacrest: King of the Nicknames!) was lucky he didn't have Mary on his team; there's no way she would have put up with his constant breaks from rehearsals to listen to his wife give birth over an iPhone. (Thanks to Apple, our physical presence during life's most important moments is no longer required.) His all-male group — named Team Awesome in apparent tribute to the mentality of an infant — sang a pleasantly smooth, inoffensive version of the Temptations' "Get Ready." When Randy asked Big Mike and the fine-voiced Tim Urban to step forward, the producers amplified the suspense by expertly cutting to a commercial. The tension was palpable! Who would make it: the two talented people we kept seeing footage of, one of whom just had a kid, or the practically nameless contestants behind them? Oh, right.
The real, non-procreative drama came when Destiny's Wild and Neapolitan both chose to perform Lady Gaga's "Bad Romance." Come one, come all! Watch below and gasp as two groups go head-to-head performing the same ubiquitous hit! Thrill as one group goes a cappella and the other…does too! Shrug with indifference as all the drama is retroactively declared moot as the judges give both groups a full pass! Actually, it was a bit surprising that they gave Destiny's Wild the harder time — Ellen complained that their "weird" appearances reminded her of Cirque du Soleil. Well, Ellen, they are performing a song by a woman who covers herself in Kermits and blood, so why get down on them for some H&M eclecticism?
If she did want to get down on someone for their style, she should have gone after Maddie, the girl who has a matching pair of giant, colorful glasses for each outfit; she looked less like a rocker and more like the member of a Square Pegs tribute band. Contrived is worse than clashing colors any day.
Next week brings us to the final round of Hollywood Week, where the 71 remaining contestants will be whittled down to a mere 24 — blessedly, there won't be a repeat of the 36 semi-finalist format from last year.
Other Recaps:
The AV Club's Claire Zulkey was surprised "the episode wasn't the bloodbath it usually is. A lot of people messed up the lyrics to 'Sweet Escape,' but Simon was relatively nice to everyone it seemed."
Entertainment Weekly's Michael Slezak bemoaned the continuing reality that "grown-up behavior on group night can't possibly get you more than 31 seconds of total screen time."
MTV's Jim Cantiello heard "Rumor has it Taylor Swift sent [Mary Powers' group] a fruit basket with a note that said, 'Now I'm not the worst thing to happen to a Fleetwood Mac song on television. Thanks!'"