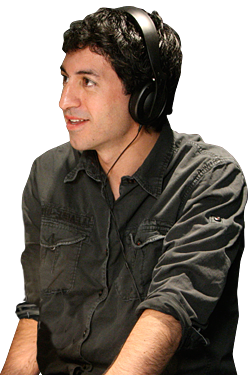 In the HBO animated series Life & Times of Tim, which comes back for its second season tonight, Steve Dildarian voices the character of Tim, a hapless New York twentysomething whose misadventures always seem to get him arrested and/or dumped by his girlfriend. Dildarian, a former ad man who had a hand in creating the Budweiser lizard, is also the creator and writer of Life & Times, which HBO re-upped after a promising (but not highly rated) debut last year. On the phone, Dildarian sounds just like Tim — he doesn't change his voice for the show — and it's hard not to notice the similarities between the man and the character. Vulture spoke with him about crude animation, HBO's faith in a little show, and how Tim is different than Larry David.
How did you transition from advertising to animation?
I started out in New York, working on a lot of Staples and Little Caesar's commercials. Then when I moved to San Francisco, I started working on Budweiser, and that sort of turned into my main recurring gig, and I did a lot of Super Bowl commercials, mostly the Budweiser lizards. Once a year I would send different pilot scripts to different networks. Through a long kind of low in my work and creativity, I started learning how to draw, I started doing voice-overs — I started doing a lot of things I never had done and taught myself how to animate.
It's certainly not Pixar — your show is really basic animation, right?
Absolutely. And HBO's not really throwing the money at it to do that anyway, but even if they were, I don't think I'd want to. When I hired a staff, I kind of went out of my way to get a group of people who equally don't know what they're doing. I have illustrators who've never done animation, editors who haven't done TV. Everyone's great at their job, they just haven't made a TV show, so that spirit is good and bad. It shows on the screen — it looks like we're having fun, and it has unpolished edges that people like.
How much is Tim like you?
It's autobiographical in the core elements of the writing, which is the point of view on life. An idea for an episode won't come from sitting around a table with writers saying, "Here's what happened to me, here's what happened to me." People think priests are screwed up, people think cops are hypocritical, and people think their boss is weird. Usually I start with one day saying, "You know, pharmaceutical reps are kind of weird, I think they're kind of funny, so let's put that in the show."
Tim is sort of a sad sack.
The kind of characters I'm drawn to are very relatable, underdog types. The universal view is that life can be tough and unfair and the wrong people can win. I think these are all themes that have a pretty broad appeal.
What's the difference between Tim and Larry David?
I'm a Larry David fan and that was a big inspiration for this show, but the characters are different. Larry David feels like he's got the definitive opinion on everything, whereas Tim is much more easily swayed. He's not passing judgment or forcing an opinion on anyone.
How did your first season go?
It did well enough to come back. If it was really low rated, I think it would've been a problem — it's not like the ratings that Curb Your Enthusiasm gets. But I think our renewal was more based on the critics and the reviews we got, and the emphasis of the die-hard fans that were outspoken. If it was a ratings game, I don't know if we would've come back.
That's nice of HBO.
Absolutely. They don't care too much, as long as enough people like it. And then the bigger thing tends to be reviews; they want to make sure they have the smartest, coolest programming out there. Some of them are moneymakers, some of them are marquee big-name shows, and I think our show is toward a different, younger demographic in some degree.