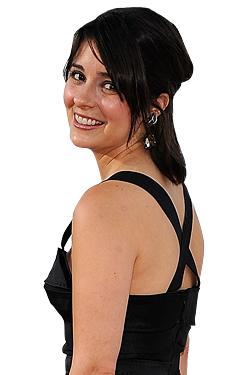 Life Unexpected, the CW's surprisingly smart new drama about a foster kid who finds her birth parents, features some familiar teen-TV faces. There's Kerr Smith, also known as Jack from Dawson's Creek, and Shiri Appleby, who became a starlet while falling in love with a quasi-alien on the WB's hit Roswell. After three seasons on that show, Appleby's career quieted down considerably, though she continued working in bit parts and occasional episode arcs on shows like ER and Six Degrees. Now 31, she's back to her former home network (now the CW), playing radio host and surprise mom Cate Cassidy on Life Unexpected. Appleby spoke to Vulture about recovering from "It" Girl status and returning to the mother ship.
Have you run into many WB alums from the Roswell days on the audition circuit?
When we were shooting Roswell, Freaks and Geeks was across the street, and I've ended up working with a lot of those people, like Linda Cardellini on ER, and obviously Seth and Jason and James are all doing really well. You see people over the years, you see people hit, and work, and you run into them at auditions, and you realize it is a very small community out there.
The show's already been likened to Juno, Party of Five, Gilmore Girls, and My So-Called Life — sort of a high bar.
Huge! I think they're trying to say that it's a family show about people caring about one another and the struggles of growing up.
There was such a flurry of attention around you when Roswell came on — you were definitely made into an "It" Girl. And then it seems that all went away for quite awhile once the show was off.
Yeah, it was awhile. In a way, I got pretty lucky. When Roswell was on, there wasn't as much paparazzi, though I was in a lot of magazines. When the attention went away, I focused on finding what my own life was like. People get tired of you after awhile; you've been on a show for three years, and episodic TV can sometimes feel very repetitive. It took me awhile to get a job again, but once you start working, it's the smartest advice to just keep saying yes.
Does Brittany Robertson, who plays your daughter on the show, remind you at all of yourself in the Roswell days?
I see it with Brittany — she's actually 19 now, the age I was when I started Roswell. She reminds me of what I was going through, the nerves and the fears. A lot of things she's saying, I can say I totally relate: this is what happens; these are the feelings; this is how your friends are going to react; this is a perspective that worked for me and I hope will work for you. Brittany and I live in a house together in West Vancouver, where we shoot.
Whoa, seriously?
Well, it's because we shoot there. I did a house swap with a friend, and it's a pretty big house, so I invited Brittany to live with me. It's a little like having a little sister, sometimes it's like having a mom, sometimes it's like having a kid. Lately it's like having a teenager, 'cause she goes home every weekend. We hang out all week and then she disappears! I feel like a single mother.
Well I have to say, you pretty much look the same as you did ten years ago. That must work in your favor, right?
I love you! I feel like if someone's not going to cast me because I look too young or old, then that's not my part. There's just too many roles out there to start getting bummed out about certain things. I was never like, "Oh no, if I play a mother something's going to go wrong with my career." Thankfully I've always been able to work.