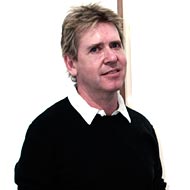 We've seen a few big names bandied about for the role of next Simon Cowell, including Tommy Mottola, Guy Oseary, Jimmy Iovine, and, most notably, Howard Stern. But seeing as American Idol appears no closer to actually naming a successor, a new contender has thrown his hat in the ring: Steve Lillywhite, the 55-year-old British producer most closely associated with U2, released a YouTube video last week stating his case, and has followed it up today with an interview with Idol Tracker. For the record, Lillywhite — who has also produced the Pogues, She & Him, 30 Seconds to Mars, Guster, Jason Mraz, the one Chris Cornell solo album not everyone hated, most of the big Dave Matthews Band albums plus one that was never released, and a Rolling Stones album from 1986 — is dead serious.

He tells Idol Tracker:
I love the show … So I'd like to make it a bit more interesting. I don't base my opinion on whether someone can sing in tune or not. And there's the question of could you find the next Bob Dylan or Neil Young on "American Idol"? It's a weak point in the show, and if there was anyone with those sorts of talents, I would be able to recognize it.
Also, when asked what best qualifies him for the job:
Possibly my work with Rob Thomas and Matchbox Twenty, they had great pop sensibilities. Certainly Bono is one of the greatest singers and any record I've made with U2 is pop music. Jared Leto is another great star who's a pop singer.
We appreciate both Lillywhite's verve in publicly campaigning and his seemingly genuine appreciation of Jared Leto's singing voice, but is he really up to the task? (Cowell, for one, wonders if he's handsome enough.) Either way, we're going to go ahead and support this, because maybe without Lillywhite around U2 will stop making albums?
Producer Steve Lillywhite speaks about his campaign to be 'Idol' judge [Idol Tracker/LAT]