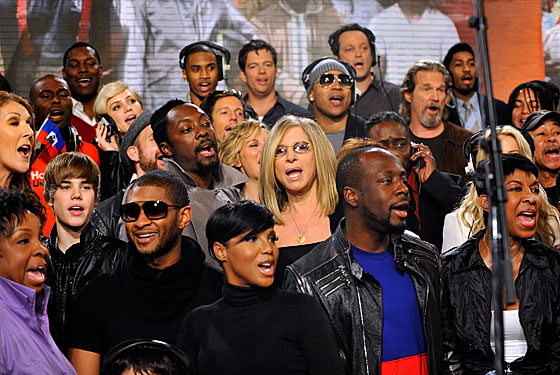 Listen, the last thing we want to do is bag on a bunch of celebrities who took time out of their normal routine of sleeping on piles of money to devote six whole hours of their lives (six hours!) to recording a new version of the most iconic songs of the eighties for charity. Yet after reading Geoff Boucher's inside account of the "all-star," "marathon" recording session (six hours!) of "We Are the World" over at the Los Angeles Times, we get the feeling that the Paul Haggis–directed (!), 2010 version is pretty much the bizarro version of original, landmark 1985 classic.
In a lot of ways, we're surprised that it took 25 years for a group of hubris-filled musicians and actors to vainly rerecord "We Are the World"; after all, "Do They Know It's Christmas" has already been redone twice. However, we were under the (apparently mistaken) impression that everyone realized that the original take was something that couldn't, and therefore shouldn't, be replicated. Too bad that didn't stop a motley crew consisting of Justin Bieber, Vince Vaughn, Celine Dion, T-Pain, and Barbra Streisand, among dozens of others, from trying. Speaking of Streisand, the notorious diva didn't really seem to fully grasp the concept of all-for-one and one-for-all during the session. According to Boucher:
While everyone else took a break for dinner, Streisand stayed behind to work on her solo, struggling to find the right tone and phrasing.
It became a bit monotonous hearing the diva run through the same 21-word section more than two dozen times. But she didn't seem to mind: "I didn't come all this way just to do one," she said after one take.
Yes! As much as we appreciate Babs's unwillingness to turn in a less-than-perfect take, the tone of this statement (in conjunction with her insistence on being exactly in the middle of the frame during the video shoot) sure makes it seem like her perfectionist streak was less about ensuring that the people of Haiti got her very best effort and more about stroking her considerable ego.
Streisand issues aside, the thing that concerns us most about this reboot is the startling contrast in star power between this session and the 1985 original. There's no denying that there have been considerable shifts in the dynamics of the music industry in the last 25 years, but the inclusion of flash-in-the-pan stars like Justin Bieber and the Jo-Bros this time around seems like a calculated attempt by someone with an MBA to ensure that tweens will shell out $1.29 to buy this song on iTunes. Almost all of the artists on the original were already legends when they recorded the song, yet almost none of the people on this go-round feel like they will have any sort of permanence or staying power, which gives this version a very "Voices That Care" vibe.
We hope that when we actually hear this version, it will be so good that we'll gladly eat our words. We'll probably buy it either way — we wouldn't feel right stealing it — but at this point, we would be shocked if the 2010 take didn't contain at least a few Auto-Tune'd verses. And that, somehow, seems like it might be the greatest offense of all.
An all-star 'We Are the World' remake for Haiti relief [Pop & Hiss/LAT]