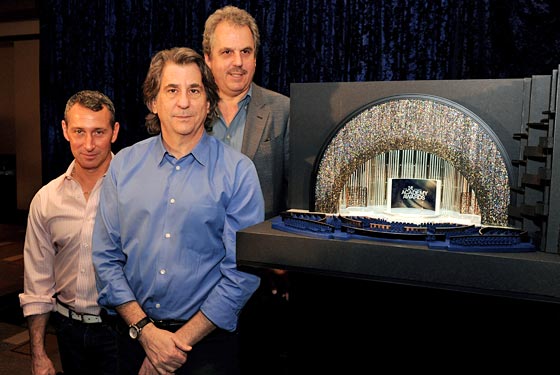 In a new interview with USA Today, Oscar producers Adam Shankman and Bill Mechanic offer a few terrifying clues about next Sunday's ceremony. For example, awards will be distributed "Six Degrees of Oscar" style, with multiple presenters being chosen for categories in which each has some special connection with a nominee. Unless it's a boring award, obviously: "For things where you can't have a connection, for example documentary short, we'll put a comedian," says Shankman.
How else might they jazz up the less-starry categories? Consider yourself warned:
There will be two big dance numbers. Though Shankman doesn't want to reveal too much, smart money is on a few awards being presented within a dance routine.
But which awards? Art Direction and Costume Design would seem most logical, but we'd also like to see presumed Best Supporting Actor winner Christoph Waltz bust a move.
Oscar in hands of 'Odd Couple' Adam Shankman, Bill Mechanic [USA Today]