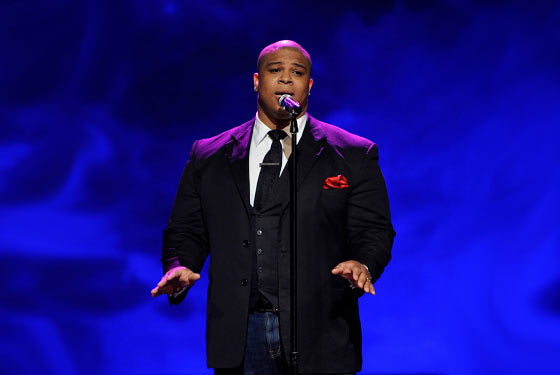 Last night's American Idol found eight guys vying to make next week's finals, and although this season's men may not match the women in terms of talent, they certainly have provided the more interesting narrative arcs. Early front-runners now look like they might not even make the top twelve, and contestants who once seemed wildly unequipped to wow a crowd have become reliable and rewarding performers. Take Andrew Garcia's rise and inauspicious fall. He enthralled during Hollywood week with his acoustic take on Paula Abdul, disappointed during week one of semifinals and became full-on dull last week. But last night's performance was his saddest yet. Seeming to sense that he needed to follow up on his withering promise, Andrew tried to go back to the counterintuitive female-hit well by reworking Christina Aguilera's "Genie in a Bottle" for acoustic guitar.
Strumming along as if he had just Googled the guitar tabs an hour earlier, Andrew's voice went clumsily from one octave to the next and he seemed intent on drawing out all the wrong syllables. Three weeks ago it might have been a misfire, but at this point in the game it's a nail in the coffin. You can't even call him a one-trick pony, because he just whiffed at the same trick. It's as if Gallagher swung a mallet at a watermelon and missed.
Tim Urban, on the other hand, has only gained momentum. Who would have thought the guy who slaughtered OneRepublic's "Apologize" (and was only in the top 24 because someone else was disqualified) would have a better chance of making the top 12 than the much-ballyhooed Andrew? It seems Tim's utter failure the first week was the best thing that could have happened to his singing career (aside from his mop-toppy good looks). Starting out so miserably, his two passable performances since then appear to be "huge leaps forward" in comparison, which the judges seem to confuse with artistic growth. Ellen even ran onstage to hug him because she had been so harsh before. To his credit, he did fine performing "Hallelujah" Jeff Buckley style, but every time he came to the chorus he wasn't anywhere near delivering that sweet, earnest croon that makes people love that constantly covered song. But his friends at home can rejoice: He'll no longer be a liability on karaoke night.
The night's most confounding moment came courtesy of Michael Lynche … well, more appropriately, courtesy of the judges' overzealous reactions to him. Lynche sang a solid, impressive version of "This Woman's Work," a Kate Bush song by way of R&B singer Maxwell. He hit the falsettos with professionalism, strutted around the stage like he owned it, and nailed the money note at the end. Plus, he sang about the trials of childbearing while his wife was in the audience, so that's sweet.
Randy raved, "Dawg! What! Really? Really! That was hot!" and Ellen seconded this, albeit through actual sentences (oddly enough, someone did this tune when she was a guest host on So You Think You Can Dance). Then things got weird when it became clear the song had literally moved Kara to tears. Through her shaking, faltering voice she told him how much it spoke to her even as a woman sans child.
Then things got weirder: Simon declared it the best live performance of the season so far. Unless he meant to say, "for the boys," he's out of his mind — Mike has proved himself a formidable performer at best, but there's no way what he's doing musically approaches the best of Crystal Bowersox, Siobhan Magnus, or Lilly Scott. (See the clip below.) Even among the men, Alex Lambert has a more consistently rewarding voice.
Speaking of which …
• Alex Lambert's lean, energetic take on Ray LaMontagne's "Trouble" was the best of the evening. He managed to speed up the ballad without losing any of its mournful grit, once again demonstrating that he's this season's most reliable Y-chromosome performer. Kara blathered some self-help nonsense about how the only thing standing between him and victory … is himself! It's hard to say why the judges keep harping on his nerves, because he no longer appears terrified onstage, and that standoffish innocence is part of his appeal. (Plus he gets bonus likability points for laughing at Seacrest's somber drill sergeant routine at the beginning of the show.)
• Lee DeWyze performed Owl City's "Fireflies" with a characteristically lame soft-rock growl. Kara posits his version was better than the Casio-quality synths of the original, but that's like congratulating someone for creating an edgier version of the Teletubbies theme song.
• Casey James went for Keith Urban's country sing-along "You'll Think of Me." Randy longed for Casey's electric guitar, although Kara said she was "kind of back on the Casey train." Seacrest graciously let that pass without comment.
• Bless our lucky stars, the judges simply couldn't believe how confident and grown-up Aaron Kelly seemed while singing Lonestar's "I'm Already There." Apparently adult singers bounce up and down without ever moving their feet and clutch the mike like a security blanket. No matter, though: The judges and moms across the country are smitten with the spectacle of a 16-year-old belting out songs in a range that belies his age. But if we're being honest, his voice is weak when he sings softly, and he's marred by a complete lack of artistic individualism.
• Todrick Hall did Queen's "Somebody to Love," and while you have to applaud his bravery for drastically rearranging a beloved song the week before finals, he seemed to be singing more for himself than the audience. Kara was right to say that you will either love him or laugh at him, but at least he keeps you guessing each week. We'll see if he makes it through tomorrow night.
Other Recaps:
The AV Club's Claire Zulkey admits Aaron Kelly is "a good hardworking kid and he's definitely a better singer than I am but I just don't want him on my TV anymore."
Entertainment Weekly's Michael Slezak worries that although "Alex has one of the very best natural voices in the competition … the judges need to help him learn the difference between being some guy who stands on a stage with his guitar and sings songs and being an actual singer."