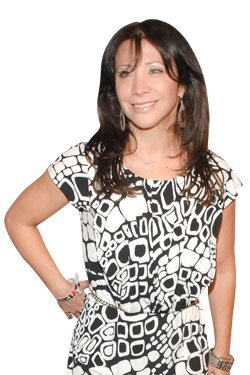 Saturday Night Live alum Cheri Oteri, best known as the other half of the Spartan Cheerleaders (with Will Ferrell), has returned to TV comedy with a new AMC "comic mini-drama," Life Coach. The show follows an eccentric life coach, played by Oteri, and began airing as commercials on the network last month; the full episodes begin tonight. Vulture recently spoke with Oteri about returning to television, embracing her brunette roots, and the fact that her name doesn't really rhyme.
First of all, where the hell have you been?
Oh my gosh. It's such a weird question. It's like if you're not on television, you're not living your life. I've been doing things, but I've been more holding out for the right thing, something creative that I wanted that wanted me. And that's a tough battle.
How long have you been a brunette?
Maybe two years. The funny thing is, I was never purposely blonde. I just got highlights, and then you get highlights over highlights, and then it looks like you're blonde. But I'd never thought of myself as a blonde, so I went back to basics.
What interested you about this AMC project?
My agent called me, and all I had to hear was "life coach," because I've always wondered, What the hell is that, anyway? Is it like a personal cheerleader? I was so into this that I took a course to become a certified life coach.
What did that involve?
Four days in an online classroom from 7 in the morning till 11 p.m.! It was intense and they were long days, but still …
Really? There's no psychology degree involved?
No, don't bother with that, because life coaching is about the future; psychotherapy is about the past. But I could never do it in real life: I don't have the patience and I'm just not that positive. That's what I learned from taking that course.
I understand you're doing an episode where your character faces off against Nancy Grace.
I am such a fan of that show, and I just thought it would be so funny if I were to pop up to kind of defend someone who's very obviously guilty. You can imagine Nancy fuming just at that alone.
She doesn't come across as someone with much of a sense of humor.
She does, actually, but her own show doesn't show that side of her.
I understand that Lewis Black, Mark Linn-Baker, and Kathleen Madigan will also be guest-starring on Life Coach. Who else?
[Originally] we did it with a lot of wonderful young actors who did comedy in New York, and it was like improvising and creative playtime — it wasn't about having to service a star. Of course, AMC would like to have people who are pretty well known doing it, but I really don't care either way. I probably shouldn't be saying that.
You were on SNL from 1995 to 2000. Why did you leave?
I just decided not to go back.
That's not a gig that a lot of people would leave voluntarily.
Well, I did. I was, like, "I think this was a perfect amount of time to give to this," and it was the right decision for me.
Do you still watch the show?
No, I don't. I'm not a late-night person, and as soon as I stopped, I never stayed up that late.
Don't you have Tivo?
No, I actually don't. My last name is Flintstone. I'm still amazed at the microwave.
Was a Cheerleaders movie ever considered?
I don't know if it was thought about or not. I didn't bring it up. We had our hands full just writing the skits. I'm sure a movie would have been completely different. And during the summer, we all just kind of did other things.
Based on your experience in the business, have you found that it helps to have a name that rhymes?
Actually, it wasn't until I came to New York that people would call me Cheri O-ter-i. It's actually Cheri O-teer-i, and I still call myself Cheri O-teer-i. If you want to make a rhyme, have fun.