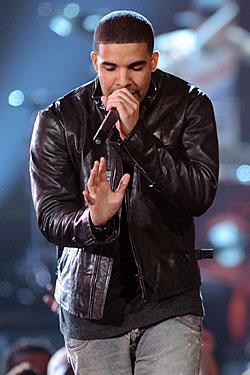 Drake has been in the public eye for almost ten years — from playing Jimmy on Degrassi to joining the Young Money family and killing it in 2009 with Vulture's Song of the Summer "Best I Ever Had" — so it's hard to believe that "Over" is his first-ever official single. But … it is. The song came out last night, and it's a hybrid slow jam/rap track with a jingling Goldfinger-style hook that references his sudden rise to fame ("I know way too many people here right now that I didn't know last year / Who the fuck are y'all?"). It also includes a cute shout-out to Ebert and Roeper ("I really can't complain, everything is kosher / Two thumbs up, Ebert and Roeper") and one of the most genuinely heartwarming lines we've heard in a while ("I swear this life is like the sweetest thing I've ever known"). Aw.
You can hear the song below, and, if you like it, download it for free on Drake's website — there are clean and dirty versions, depending on what you need.
Drake Finally Releases a Single, Officially
Things you buy through our links may earn Vox Media a commission.