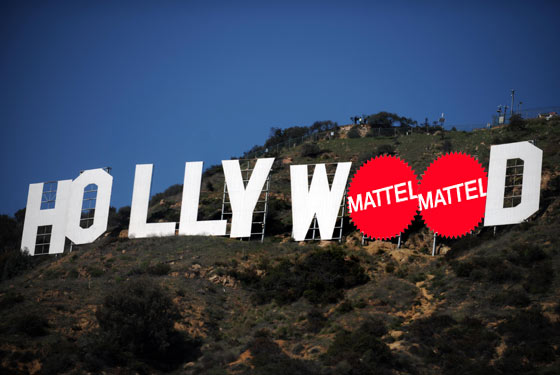 Though the toy and movie industries have become increasingly intertwined, when they work together, it's because one of the two has usually made the first step: A popular doll is turned into a movie, or a movie inspires a line of dolls. But now, Mattel, the world's No. 1 toy company, is making the next inevitable hop up the evolutionary ladder of synergy: Vulture has learned that Mattel challenged its designers to come up with a new toy line that could simultaneously be turned into a TV show, feature film, or game, for the ultimate branding weapon. And last month, out of the top five inventions, the powers that be selected the best potential feature-film subject, and have now partnered with prolific producer Neal Moritz (the Fast and Furious franchise), who will soon start looking for screenwriters.
The winning, as-yet-unnamed toy line will be an alien civilization that's been living in the depths of Earth's oceans. (Sam Worthington can swim, right?) The Mattel execs decided that this idea had the most inherent "transmedia" options, which is the current buzzword for the potential to spiral off into every possible product that people will pay to play with, see, hear, or eat. Critics who have been depressed by such toy-to-screen blockbusters as G.I. Joe and Transformers may see the move to toy-and-screen as the death of cinema, but merchandising experts naturally believe it's a smart move for Hollywood, and possibly a good creative move, too.

"It's actually a great idea, with the caveat that they need to coordinate the story and have it all make sense well beforehand," says Jeff Gomez, CEO of the New York–based Starlight Runner Entertainment; the company helps studios flesh out a toy's "story" and create a bible for what that toy would and wouldn't do — its motivations, hopes, dreams, et cetera — to make a world that will best hold up as a movie. (Gomez created the transmedia canon for Michael Bay's Transformers: Revenge of the Fallen.) Gomez points to the 2009 Cartoon Network show Hot Wheels: Battle Force 5, based on the Mattel toy-car brand, as the likely spark for the company's leap to toy-film franchise development. (The show, which was just renewed for a second season, was not a Starlight project.) The creators of Battle Force 5 took time to flesh out the show's main characters, in the hopes that the show wouldn't come off like a glorified commercial. "Yes, there's brand equity in the name Hot Wheels," says Gomez, "But it's the characters [in Battle Force 5] that young boys are identifying with, and that are driving TV ratings and the sales of the Hot Wheels DVDs. And that's likely what's influencing Mattel's decision-making on further transmedia implementations."

The lockstep toy and movie development plan is understood to be the brainchild of Mattel Brands president Neil Friedman, who is credited with melding tech and toys to create the "Elmo effect" — wherein an onscreen toy character can also be made to entertain children off-screen as well. For example, Mattel's Fisher Price division sells Elmo Live!, which can tell jokes and stories, sing and dance. The Sesame Street spinoff set holiday sales records when it was released in late 2008.

Moritz did not return calls seeking comment, and Mattel's Hollywood representatives, Creative Artists Agency, declined to comment on the deal to retain Moritz's Original Film as a producer. However, insiders tell Vulture that while Moritz is based at Sony's Columbia Pictures, he has a discretionary fund that would allow him to buy the rights to Mattel's aquatic aliens and take them to another studio if Sony balks. If that happens, one possibility could be Universal Pictures, a franchise-starved studio that made an overall development deal with Hasbro in 2007, and which will turn Hasbro's defunct seventies toy, Stretch Armstrong, into a 3-D film starring teen wolf Taylor Lautner in 2012.