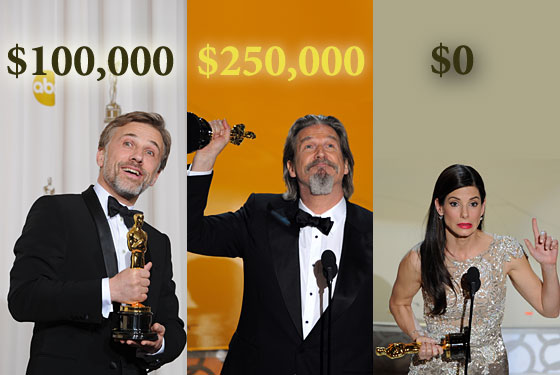 Win yourself a Nobel Prize, and you know you just scored roughly 1.4 million U.S. dollars. Get a Pulitzer Prize, and you can count on $10,000. But win an Oscar? Your cash prize is more of a crapshoot. When signing on for films that are possible Oscar contenders, actors often have award-triggered bonuses built into their contracts that vary depending on the size of the film. A modest indie production like Crazy Heart — for which Jeff Bridges just won Best Actor — likely came with a $125,000 bump for the nomination and another $125,000 for a win, while a larger studio production, like Avatar, would see those nomination and win figures double or triple.
But if you ask what an Oscar was worth to Inglourious Basterds' Best Supporting Actor Christoph Waltz, the answer is both "nothing" and "a whole lotta dough." When the Weinsteins hired Waltz, the legendarily parsimonious studio chiefs would not agree to a bonus for any nomination or win, sources tell Vulture. But after Waltz's chilling portrayal of SS officer Hans Landa electrified critics, his reps moved to secure a $100,000 bonus for a Basterds win from his next employer, Sony Pictures, who had hired him for The Green Hornet. The agents' argument was that since Waltz stole the show in Basterds, his agreeing to play the villainous Hornet gangster Chudnofsky would have real marketing value to the studio.

As for Best Actress Sandra Bullock, even though The Blind Side came from Warner Bros., a major studio, insiders say that it's highly unlikely that Miss Congeniality got any Oscar bonus. When the film was first conceived, neither the movie nor Bullock were considered Oscar bait, and it's therefore unlikely her reps would have even thought to ask for an awards clause. So when her name was called Sunday night, it's likely that Warner Bros. accountants were delighted for two reasons.