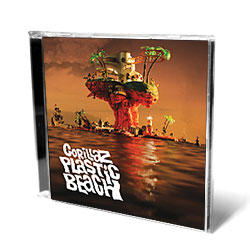 Gorillaz's awesome new album Plastic Beach leaked this morning and we've been listening to it ever since (it's also streaming here). Damon Albarn has called it "most pop record I've ever made," and we're pretty much inclined to agree; Plastic packs both the singalong choruses of 2001's Gorillaz and the clever, impeccably orchestrated production of 2005's Demon Days (all the more impressive when you consider that Albarn did everything himself this time, with no help from Danger Mouse). The album also has a vaguely environmental theme — its title and several songs refer to a fictional land mass comprised entirely of disused plastic products — which is a damn shame, since these shiny beats would otherwise be perfect for soundtracking television ads promoting Apple's line of plastic-encased MP3 players that they recommend you replace every 1.5 years (as you'll recall, Demon Days' "Feel Good, Inc." once successfully scored an iPod commercial). If Steve Jobs can get past the irony, we'd probably recommend he use this track, "Superfast Jellyfish," which features De La Soul, Gruff Rhys from Super Furry Animals, and a sparkling hook:
Which New Gorillaz Song Should Soundtrack an iPod Ad?
Things you buy through our links may earn New York a commission.