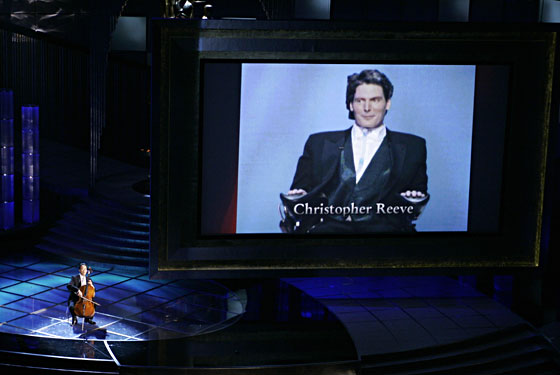 In conformity with the same law of proportions that required double the usual number hosts for double the number of Best Picture nominees, two times the usual number of film-industry luminaries helpfully died during this year's eligibility period in order to make Sunday's "In Memoriam" tribute the biggest, most mournful grief-tacular the Oscar stage has ever seen. But with so many expired legends to choose from, how will producers decide which star to honor at the end of the montage, where there's room for the most prolonged and heartfelt clapping? (Hey, with most of this year's awards races already locked up, we've got to speculate about something.)
No one more famous than Michael Jackson joined the choir invisible in 2009, but even though he starred in a few movies, he was obviously more musician than actor, and we assume the film industry will honor one of their own. So John Hughes, then? Maybe not! The Academy is planning a "separate and special tribute" to the director, so we doubt they'd give him the "In Memoriam" pimp spot, too.
Will Farrah Fawcett finally get the remembrance she missed out on by dying the same day as Michael Jackson? Unlikely, since she worked mostly in television. And presumably it won't be Karl Malden, whose death at age 97 was sad, sure, but come on, he was 97.
Natasha Richardson, David Carradine, Dom DeLuise, and Ron Silver were all beloved, of course, but they sound like mid-montage names to us. And, with so many stars to salute, will Brittany Murphy even make the cut? (Remember when the Academy omitted Brad Renfro two years ago?)
Unless the "In Memoriam" montage segues directly into the Hughes tribute, our money's on Patrick Swayze. Who are you betting on?