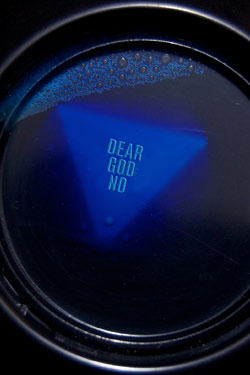 When the idea of a romantic comedy based on the Magic 8 Ball novelty toy was first bandied about back in 2006, it seemed far-fetched, even with a director like Tom Shadyac attached and the resources of Universal Pictures. A feature film based on an oversize black-and-white billiard ball that gives one of twenty alternately affirmative, negative, or noncommittal answers? Preposterous! And sure enough, nothing came of it. But that was then. Now, when even the most one-dimensional toys are getting the 2-D treatment (Battleship, the Ouija board), Paramount Pictures has decided audiences are finally ready to embrace the Zen simplicity that is Magic 8 Ball: The Motion Picture.
We're told that Shadyac is off the project, Universal is gone, and now Paramount has assigned as producer its former production chief, Brad Weston (who, appropriately, has a head like a cue ball); Mattel suits Tim Kilpin and Barry Waldo will be exec producers, because it takes two toy executives to really explain the inner motivations of a psychic piece of plastic. The Paramount plan, we hear, is to turn Magic 8 Ball into a sort of live-action National Treasure–style action-adventure movie. Can't you just see Nicolas Cage vigorously shaking the ball for his next clue? It almost writes itself! But just in case it doesn't, Weston has hired non-clairvoyant screenwriters Jon Gunn and John Mann to fashion a script; the pair have been busy writing DreamWorks Animation's Boo U., a film about a ghost who — ineffective at haunting the living — is sent back to school to learn how to become a more frightening specter. Perhaps they'll cast the spirit of Rodney Dangerfield? But we digress …
So, is the time really right for this reductive a film? In the words of the Magic 8 Ball, "Ask again later." Preferably after we've sucked down some of the rubbing alcohol trapped inside our Magic 8 Ball.