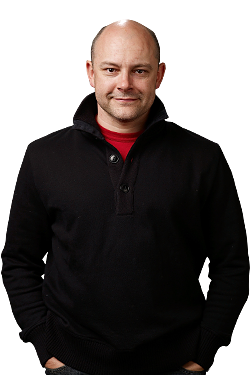 Rob Corddry graduated from the UCB Theater circuit into a correspondent position on The Daily Show, and from there was torpedoed into a successful career playing loudmouthed asses of many stripes (The Winner, What Happens in Vegas, Ari Fleischer in W). His latest role, as the aging alcoholic party guy in Hot Tub Time Machine, exemplifies his skill at hilariously conveying oblivious dickishness that is, against all odds, endearing. Corddry spoke with Vulture about professional wrestling, how his Boston upbringing taught him sarcasm, and why he's not buying Katherine Heigl's apology.
We interviewed your Hot Tub co-star Craig Robinson last week and asked him about his favorite hot-tub memory. Do you have one you'd also like to share?
No, not really, because a lot of bacteria can thrive in 104-degree water. And also, hot-tub advertisements usually start, with "you're naked, and totally relaxed," which does not compute to me. That's an impossible situation.
What was your relationship like with your younger co-star, Clark Duke? Did you offer any mentoring?
He would wear sunglasses, like five or six pairs, regardless if it was indoors or outdoors. Every section of his face was covered with sunglasses, and if someone would tell him to do something he would throw a pair of sunglasses at him. Of course, none of that is true. He's pleasure to work with.
You and Duke co-hosted WWE Raw together. Are you a wrestling fan?
I wasn't before the other night, but I am now. We got to go to Wrestlemania and sit in the second row, right behind the announcers. I will pile drive anyone who says wrestling is fake, if you say those guys are not getting the shit kicked out of them. It is pretty amazing to watch those huge, heavy men fly so gracefully through the air … and everyone's very professional. It's a real corporation. Everybody wears suits to work. I was very surprised by that. All the wrestlers come in suits, all the writers come in suits. I dont't know if I'm supposed to say they have writers. That might be a breach of confidentiality. Let's just say "staff."
You've played an aggressive-jerk character in a few roles. What do you tap into for that?
I tap into what I was at about 25. I'm from Boston originally. Everybody fancies themselves a comedian in Boston, and everyone's go-to is sarcasm. Just a very aggressive, mean sarcasm. I kind of tap into my past, I guess. I've since tried to eradicate sarcasm from my life, from my day-to-day, at the request of my wife and all my friends. It's hard, it's really hard. I'm like an alcoholic but with sarcasm.
So are people surprised with how you are in real life?
Well, because I was on The Daily Show, people assume I'm a lot smarter than I am. And only now after Hot Tub's been out for a couple of days have people at least expressed that they were somewhat alarmed as to how I am in real life. Which is really, flamboyantly gay. Just floating around everywhere.
You and your little brother Nate are in the same field. How helpful can you be and still make sure he doesn't become more successful than you?
[Laughs.] No, man. It's always disappointing to people that there's no sibling rivalry whatsoever. People always expect it and there really, really is nothing but support. I would love for Nate to become Tom Cruise wrapped in Steve Carell shoved up Jim Carrey's ass — if for no other reason than I could borrow money from him. I'm not kidding when I say that he's a better actor. Hold on, I have to kiss my daughter good-bye. [To daughter: "Hey, give me a kiss."] I staged that to make myself look more human. Anyway, he's a dramatically trained, real-deal, might-win-an-Oscar-someday dude.
Your medical-drama web-show spoof Children's Hospital got picked up by Adult Swim. Were you hoping it would make the jump to TV?
No, never. Really, never. I thought that idea was just not conducive to television, but just perfect for the Internet. But Adult Swim is the closest we're gonna get to television compatibility. Now that being said, it's still only a fifteen-minute show, and I cannot imagine that the show could sustain itself for sixteen minutes. It's really so thin.
Did you watch a lot of medical dramas as research?
Yeah, definitely. I watched them by default; My wife is a huge fan of Grey's Anataomy … now I just sort of watch, if I'm having trouble in the edit room with finding music, I'll go back to the source. I'll refer back to the text. The tome. See WWGAD: What would Grey's Anatomy do? And usually their choice is completely stupid.
Is your wife upset that Katherine Heigl is leaving the show?
Oh, no, Katherine Heigl is leaving the show! What are we gonna do?! I saw her on the cover of a magazine, I don't know what magazine it was … she has black hair now, and she had her hands up in a like prayer position, and it said, "I'm sorry." That's what you gotta do, you gotta change your hair color, and then immediately you're sort of a nicer person, one that appreciates what she's been given. No patience, no patience.