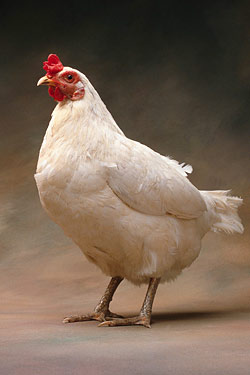 Today, the Times has a profile of the Food Network's new project, the Cooking Channel, a 24/7 station launching May 31 that hopes to do battle with Food Network competitors like Bravo and TLC by being "a little grittier, a little edgier, a little hipper" than it's progenitor. How exactly does it hope to accomplish this? With Canadians, hipsters, ethnic food, and on-camera poultry violence!
The new network, which seems like it's throwing all the spaghetti against the wall to see what sticks, is following directives gleaned from a 2007 audience survey that wanted the Food Network to "'Put real people on the air that people can relate to', 'Bring more diversity in both personalities and menus,' and 'Always try and be on the cutting edge of what's going on in the food world.'" This has resulted in the importation of at least six shows from Canada, including a let's-appeal-to-brew-your-own-beer-hipsters shows like Food Jammers, about "three young guys from Canada who build taco vending machines and other weird contraptions," and a let's-teach-those-same-hipsters — and everyone else — how-to-make-a-mean-curry show, Indian Food Made Easy. Lest the network go too far to attract dedicated locavores who don't even have televisions, it will also air series from Food Network stalwarts like Emeril Lagasse, Rachael Ray, and Bobby Flay, a new series from Mo Rocca, an hour of Julia Child's old series, The Galloping Gourmet, and a show about how to make diet food using no-fat Pringles.
The most important difference between the Food Network and the Cooking Channel, however, is the chance that you might see some violence on the latter. Michael Smith, the Channel's general manager, told the Times, "Someone sent over a demo for a potential show where you could see they were breaking chickens' necks in a restaurant. I do think we would do that on the Cooking Channel." Nothing says gritty, edgy, and hip like broken chicken necks! And nothing says, "PETA, break out the stationery" like a news story about a network that is eager to showcase broken chicken necks.