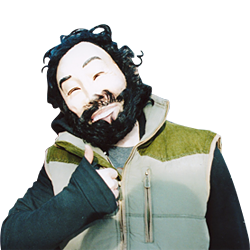 For the last eight years, Tom Fec has made some of the most outlandish, forward-thinking indie rock around with his band Black Moth Super Rainbow and solo project Tobacco. To call Fec's music psychedelic or experimental is an understatement: Black Moth and Tobacco songs typically feature wild synthesizer melodies, unforgettable day-glo hooks, heavily-vocodored vocals, banging hip-hop beats, and crazy song titles like "New Juices From the Hot Tub Freaks" and "Bubblegum Animals." No wonder he's found fans in everyone from punk icon Mike Watt to indie emcee Aesop Rock to Beck, who actually collaborated with Fec on his new Tobacco record, Maniac Meat, which is out May 25 on indie label Anticon. Vulture caught up with the elusive Fec to talk about the new disk, working over e-mail with Beck, and his obsession with fitness tapes from the eighties.


You managed to snag Beck as a collaborator for your new album. How'd that happen?

I reached out to him because when I was writing these songs, I could hear him on them. I knew it was impossible to ever reach him, but Shaun [Koplow] of Anticon] had a class with Brian Lebarton, who is Beck's music director. He asked if he would do it.


How did you shape the songs, since you live in Pennsylvania and he lives in California?

I would send MP3s of the finished instrumental and he just went to town. On "Fresh Hex," he did the vocals and the chopping and editing himself. He's a busy guy and I can't remember how long it took him to record his parts. It was getting to the point where I sort of gave up, thinking this was more of a dream. But then one day the files just showed up.


Your new record just leaked. People say that it's bad news if your album doesn't leak, that no one cares about your music. Do you agree?

I thought about that — that it would be bad if it didn't leak. I'm trying to be positive about it. I get why people take music online, when you can just click on a link. But what I don't get is people who get [advances of records] and the first thing they think is that they have to put it on the Internet. What do you actively get out of it? Strangers will enjoy it, but what do you get out of it?



Your record has weird song titles like "Grape Aerosmith" and "New Juices From the Hot Tub Freaks." How did you come up with those?

That one, "New Juices," came from this obsession I have with hot tubs. The best feeling is getting into a hot tub when it's fifteen degrees and snowing, having a hot tub set up outside — it's the greatest feeling. I may sound like an idiot, but I really want to get one of those huge hot tubs where you can fit, like, seventeen people into it.


Are you saving up to buy one?

I can buy one, I would just get in a lot of trouble if I did. I need to find the right circumstances with my fiancé to let me spend that much money.


Congratulations on your engagement. Who's the lucky girl?

Let me try and think of a way to describe her without giving away who she is …


Why?

That's too much information for people to know about.


Well, how did you propose to her?

We just decided one day we were going to do it. We had a jeweler design a ring for us. It's funny because the place where we got it is where all the Pittsburgh Steelers players have their rings made. It's bizarre to see their rings compared to ours — these really funny, bling-y kind of rings.


You seem like a pretty private guy. Do you think you'll continue playing and performing music forever?

I don't think so. I'm starting to get into food now. What I want to do with my life is open up a sweet-ass pizza shop ten years from now. I can't see myself doing music ten years from now, when I'm 40.


You've professed to have an obsession with workout video tapes from the eighties. What's up with that?

There's just something really fucked up about them, especially when the people aren't in shape. They're smiling like they know what they're doing, and it's just really fucked up, like Richard Simmons's Sweating to the Oldies. I actually have a copy of one of my records signed by him.


How'd that happen?

He was doing a book signing near my friend Ryan's house and he brought him a copy of Black Moth Super Rainbow's Dandelion Gum, which has this scratch-and-sniff sticker on it. When he gave it to Richard, he licked the scratch and sniff. Not only is it signed by Richard Simmons, but it's licked by Richard Simmons. He seems like such a sweetheart.


When's the best time to put on a Tobacco record?

I want it to be party music that has something deeper behind it. But I don't want people to think my music is thoughtless or idiotic like AC/DC or — what's that band called? LMFAO? As freaky as my music might be, if you played it really loud on a stereo, people might get it.


Hear Maniac Meat's "Motorlicker":