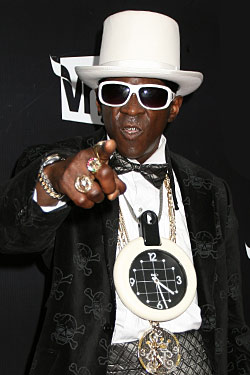 Yesterday, VH1 announced that it would be trotting out a record 44 new series in 2010 and making an intentional break with the D-list celebrity shows (Rock of Love, Flavor of Love, and their many spinoffs) that have comprised just about all of the network's programming over the last few years. "As much as they've enjoyed the Love franchise, our audience was getting a little fatigued by all those manufactured reality shows," VH1 president Tom Calderone said. "They want more authenticity in their reality, which isn't to say that it can't be comedic and light." Calderone even dropped the "M" word, as the ersatz music networks like to do when they're trying to project the aforementioned authenticity, saying that each new show would fall into one of three genres: music, celebrity, or "real life stories."
But before you get your hopes up about seeing an actual music video on the channel, you should know that a Behind the Music about Christina Aguilera is an example of VH1's new "music" programming. In other words, this isn't change, this is repositioning: VH1 is dumping the Flavor of Love model of reality television in favor of the Jersey Shore model. Instead of breeding reality-TV celebrities from patriarchal D-listers like Bret Michaels or Flava Flav, they're gonna breed reality-TV celebrities from nobodies, like Snooki and the Situation. Doesn't that sound more authentic to you?!
Consider the shows VH1 announced: My Big Friggin' Wedding, more or less My Super Sweet 16 with, well, weddings; You're Cut Off, in which women who could have appeared on My Super Sweet 16 are denied pedicures and Barneys; Eva Longoria: Beso: Waiting on Fame, about the wait staff at Longoria's restaurant Beso; Estranged With Dr. Drew, where the celebrity doc plays relationship counselor to a normal couple (Sorry, Sandy and Jesse, he just doesn't have time for you right now). What all these shows don't have is an Ur-semi-famous person like Flav or Michaels making a fool of himself on camera (Longoria executive produces her show, but is not one of the main characters). What they do have are regular people making fools of themselves on camera!
In fairness, the new series don't have set-ups as ludicrous as people competing for a chance to do something as patently undesirable as sleeping with Bret Michaels or Flava Flav. And yes, the Love series and their spinoffs are tired (and dropping in the ratings. Though, for a reminder of their dominance, see this Times piece from 2007). But in eighteen months, when the breakout star of My Big Friggin' Weddings is newly divorced and getting a chance to host his own dating show (My Big Friggin Dating Game!), he'll be tired too — having never been as authentically weird as Flav, just as authentically fame hungry.
VH1 Pumps Up The "Gen Mix" Show Volume [Deadline]