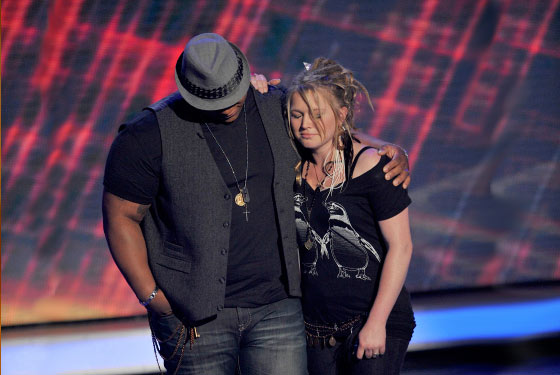 Last night American Idol cut one more contestant and we found out who (out of Crystal, Lee, Mike, and Casey) earned next week's enviable top three slots. Why is top three so much better than top four? Obviously, it's because the third-place finalist can at least say they earned "bronze," whereas fourth place has no alloy popularly associated with it. And you don't want to tell your kids that back in the day you took home the aluminum at American Idol.
Before getting to the eliminations results, third-season champ Fantasia Barrino returned to the Idol stage to perform her new single "Bittersweet." She's usually great, but you could tell something was off from the moment you saw her hair: It was so locked into place it resembled one of those plastic hairpieces you slap on Lego people.
Sadly, her voice wasn't as impressive as it usually is and she even sounded a bit shrill on the higher notes. The hookless tune wasn't doing her any favors, either, although at the very least she seemed invested in the performance.

Before announcing any results, Ryan brought up two family members/significant others for each member of the top four and placed them on the safety bench. So when it was announced that Casey made it to the next round and the shaggy-haired Texan joined his dad and brother on the safety bench, you realized two things: Big Mike was out, and Casey's lustrous hair is an anomaly in the James family.

Next up was Chris Daughtry, another one of Idol's most renowned alumni, and probably the most commercially successful finalist after Kelly Clarkson and Carrie Underwood. He and his band (the appropriately named Daughtry) played a song called "September," which was a nostalgic look back at the summers of his childhood, which he says were always tainted with the foreknowledge he would have to leave his small town for success at some point. If that lyrical content sounds interesting, just imagine a musical arrangement that evokes none of those conflicted emotions and you have an idea what "September" sounds like. It was just another STP/Creed-style rock-by-numbers song with an epically lame chorus.

Still, the presence of fourth-place Idol finalist Chris Daughtry was a great reminder to the remaining singers that you don't have to win Idol to live the dream. You just have to rework tired mid-nineties genre formulas and court a devoted touring fan base, and everything will turn out fine.

After Daughtry advised this season's non-winners to "stay hungry" (or maybe he urged them to buy Twisted Sisters' album Stay Hungry? It was hard to hear with Ryan interrupting to make a joke about Big Mike and food), we learned Lee DeWyze was also safe. So with Mike and Crystal left, it was clear the Big Man was headed home — unless this season was to suffer a worse upset than when, well, Chris Daughtry was sent home and Taylor Hicks moved on to win the prize.

Knowing the results ahead of time, Ryan didn't look too perturbed: He must have come to terms with losing his man-crush and the butt of his jokes well before the show started, and at that point Mike didn't appear to be nursing any hopes, either.

While Mike's elimination could be seen barreling toward us from miles away, they really should have warned viewers in advance about the pathetic song Bon Jovi would be pedaling out. Not to say anyone expected an exciting performance from a band that hasn't been relevant since they gave up hair metal, but usually Bon Jovi isn't awful — they're just dependably slick and bland.

But with "Superman Tonight," it was hard to say what the worst part was: the band's inept vocal harmonizing or the song's idiotic lyrics. (Can songs with "Superman" in the title please be put to rest?) And the tune's guitar riff — one chord repeatedly hammered away at — was probably lazier than last night's Ford "music video."

After Jon Bon left us, Michael Lynche got the bad news. He took it like a sport, flashing a disappointed smile and doing that weird two-handed wave where it looks like his hands are talking to each other. Mike's wife started crying right away, although his infant daughter held back tears until Mike brought the terrified tot into the middle of the glaring spotlight at the end.

Thanks to the video, we were able to relive the glory of Mike missing his daughter's birth — but hearing it on an iPhone! — as well as the awkwardness of Kara crying and babbling about childbirth after he sang "This Woman's Work." And of course we were treated to much footage of Michael throwing various puny human beings into the air.

Mike left us by reprising the Free Willy song, which was an odd choice since it was just as "sure … whatever" as it had been 24 hours earlier. After that, Ryan was able to utter the improbable line most reality-show hosts can only dream of: "Now we say good-bye to a guy who auditioned and had a baby along the way."

Some might take issue with Mike's elimination, and understandably so: He certainly is a more consistent performer and stronger vocalist than Casey. Nevertheless, his rejection makes sense on a gut level. When Casey had an off night, it meant listening to a passable, goofy, and forgettable performance. But when Mike scraped the bottom, you were forced to endure indulgent, goofy, and inadvisable reinterpretations of stuff like "Eleanor Rigby" or Chad Kroeger.
That being said, Mike can rest easy with the knowledge that he got to drive the Ford Fiesta for the entire commercial/music video last night.

Other highlights:

• When shaking the judges' hands on the way out, Mike appeared to be having an actual conversation with Simon, but sadly it was for British (and Mike's) ears only. One has to wonder what parting advice Simon had for a man he once called "wet" and "girlie."

• Crystal told us Once is actually her favorite movie, and she made Lee watch it before they even knew they'd be duetting on the film's centerpiece tune.

• When Ryan asked Kara what Mike could do to improve himself, Kara advised him to return to "This Woman's Work," which was less like advice and more like a Teletubby shouting "Again! Again!"

• For the first time ever, Lee sounded a bit too comfortable with his success. "I feel for anyone who is on that side," Lee said to Ryan after learning he was safe, almost as if he didn't expect to have to endure it again. Be wary of thine hubris, paint salesman.
And now, the final three all get to go home and be reassured by the calming embrace of their local AT&T store.

Other Recaps:
The AV Club's Claire Zulkey was bored by the "flashback to other idols heading to their hometowns to visit before the top 3 do so themselves."
Entertainment Weekly's Sandra Gonzalez says of the departed Michael Lynche: "In trying so hard to get people to like and remember him, especially after he was saved, at times I found myself wanting to push the TV away, as if it were a sticky toddler on a playground seeking a hug."
Television Without Pity's Jacob enjoyed when "Ryan asked Ellen to explain Daughtry the difference between him and the 2010 Idols and she was like, 'There is none.' Randy said that the difference is that he has slightly more money now."